South Africa: The Mandela Bay Arts Festival officially opened on Friday, 23 September 2022, kicking off the Heritage Day weekend with a diverse programme of theatre, dance, music, poetry, film, comedy and more that runs until 2 October across seven venues in the Nelson Mandela Bay area.
Produced and staged by the National Arts Festival, brought to you by the Nelson Mandela Bay Municipality, the multi-disciplinary Mandela Bay Arts Festival sees artists fully reclaim the City's live stages after a succession of difficult COVID-19 years for the performing arts.
Audiences are back, too, hungry for the live interaction and experiences they missed during the lockdown years.
Says National Arts Festival CEO Monica Newton, "Our partnership with the Nelson Mandela Bay Municipality was born out of their desire to support and nourish local artists in the Bay.
---
---
Artists are integral to our cultural cohesion, creating spaces for conversation, expression and imagination and the Mandela Bay Arts Festival showcases these cultural gems among us.
We're asking the residents of the City to come and explore – step out of their comfort zone and perhaps visit one of the venues further from home too."
Artists will receive 80% of the ticket price for tickets sold during the event, with the National Arts Festival bringing their expertise to provide a safe and enjoyable environment for audiences and artists alike.
The Festival not only provides financial benefits for artists but a number of temporary jobs for local communities that will also expose young people to working in a theatre.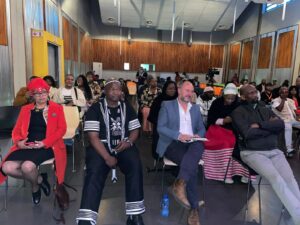 NMBM Executive Mayor, Cllr Retief Odendaal said during the official opening: "I want to say that I know that COVID-19 has been very hard on the arts and performing arts community. It has decimated your industry.
As a result, many of our people had to leave Nelson Mandela Bay and go in search of opportunities elsewhere, and that is not what we want."
"We want our home-grown assets to remain assets in Nelson Mandela Bay.
We have a massive responsibility to ensure that we don't look after the industry when they have become vulnerable because then we fail them. I am very happy to be here tonight, and I know the next 10 days will be amazing.
---
---
I will go home and challenge my circle of friends to come and support the Mandela Bay Arts Festival and come and experience the assets we have here."
More About the Programme
Audiences are spoilt for choice on the opening weekend alone.
The Festival starts at 18h00 on 23 September with the dance piece, Path Crossing, and moves swiftly into a packed programme of shows, including comedy (Stand Up People:Comedy with a Twist), theatre pieces, Closet and The Picture Frame, and a rich offering of spoken word performances; Kwa Xhosa, UBUHLE and Ashes to Ashes. Audiences can explore traditional Bhaca rhythm elements in The Bhacasoul Experience with Joliza and the dance piece The Uprising, which commemorates the 1976 Soweto uprising.
Poet and musician Mariloe Booysen will perform in Let's Blom with Flower Lady and Friends, and legendary jazz performer Welaz Kabah will share the stage with his son.
The powerful voice of Nomabotwe will cast its spell over audiences in Hamba Ungemi, and families should make a date to see The Chronicles of Cinderella and the Giant, with shows on both Saturday and Sunday, both weekends of the Festival.
Theatre piece Weeping River and dance/music piece ZAZI are also on the bill, while music lovers can also look forward to a diverse and soulful journey in Mosaic.
---
---
New shows debut the next week with multi-genre piece Akulahlwa Mbeleko Ngakufelwa starting on Tuesday, along with Jazz Explosive – a performance from Denzil Africa and Vusa Band.
These are just some of the shows to expect; the full programme is available online at https://mbaf.co.za where tickets can also be purchased.
Printed tickets can also be bought at the Festival box office at the Athenaeum in Central between 10 am and 7 pm daily and at the door of each show 30 minutes before the show starts (subject to availability).