South Africa: The atmosphere at the launch of the 2022 Mapungubwe Arts festival heralded what will be an exciting 2022 festival of activities. 
The MEC for Sport, Arts and Culture, Ms Nakedi Kekana, launched the Mapungubwe Arts Festival 2022 to a full house on 15 November 2022 in Polokwane, Limpopo.
MEC Kekana unveiled six activities that will take place over a period of eight days that will culminate into a Music Festival containing 95 percent of local talent on 10 November 2022.
"We want to show South Africa that Limpopo has some of the best talents in the country. The line-up includes the hottest dance sensation Makhadzi, Pleasure TSA Manyalo, King Monada, Big Zulu, Dr Rebecca Malope, Dr Winnie Mashaba, Dr Colbert Mukwevho, Dr Joe Shirimani, Penny Penny, Motlanalo, The New Boy on the Block, Idols 18 Winner Thapelo Molomo, and many more.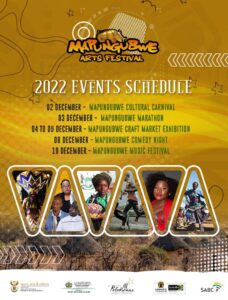 Office of the Premier: Limpopo Provincial Government shared a schedule in which activities start on: 
02 December 2022: A Cultural Carnival in the City of Polokwane,

Followed by a Marathon on 03 December 2022, 

Art and Craft Market Exhibitions around the Library Gardens from 04 to 09 December 2022. 

On 09 December 2022, there will be Comedy Night at Jack Botes and, thereafter, 

the main festival on 10 December 2022, Music Festival

The launch received support from the Various organization including:
MEC for LEDET, Mr Rodgers Monama, 

Capricorn District Municipality Executive Mayor, Cllr Mamedupi Teffo, 

Polokwane City Executive Mayor, Cllr John Mpe, Mogalakwena Mayor, Cllr Ngoako Taueatsoala, 

Thulamela Municipality Mayor, Cllr Athongozwiḓivha Rambuḓa, 

Makhado Municipality Mayor, Cllr Samuel Munyai and 

Musina Municipality Mayor, Cllr Nkhanedzeni Mawela.
Moreover, the tickets for all activities are open at Computicket, Shoprite and designated outlets.
People are very excited to dance, and more details will be revealed at the launch as per the Mapungubwe Arts Festival 2022.