South Africa: Office of the Premier: Limpopo Provincial Government's official has shared a statement on their Facebook page that they have no doubt that Thapelo will bring a trophy at home, that's why their department already started preparing for his grand homecoming as early as two weeks ago when he became apparent that they have a star at the Idols.
The MEC was accompanied by Mogalakwena Mayor and Councillor Taueatsoala to the Finale Sunday night. Team Limpopo included Thapelo's family, colleagues from the SAPS, Mogalakwena Municipality and the Limpopo Department of Sport, Arts and Culture led by MEC Nakedi Kekana.
When voting started heightening, MEC Kekana and Mogalakwena municipality decided to also put together voting apparel and teams. They started voting nonstop. Their resolve was won or lost, and something must break.
---
---
The MEC also emphasized that she would like to see Thapelo perform in the first edition of Mapungubwe Arts Festivals 2022, which launches on Tuesday, 15 November 2022.
This year's Mapungubwe Festival will be the first after three years of drought because of Covid 19. " 90 percent of the artists in this year's edition are from Limpopo, and many raised questions about why only Limpopos get this opportunity.
So, MEC Kekana answered that because Limpopo has become the Mecca of Music.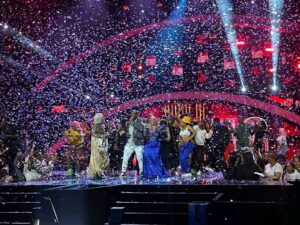 Moreover, Thapelo was very active on Twitter and on other social media accounts where he personally appealed for votes from the audience, and the public also showed their respect and love through their comments or tweets.
He regularly informed the general public about the opening or closing of voting lines, and people always responded well by giving him votes.
After winning the show, he first thanked the audience on social media that it's their honour and glory be unto god, and he and his whole Twitter family were officially crowned as Idols SA winner of Season 18, 2022, and he gave all this credit to the god and stated that "This happens because of his power and ability." 
All honour and glory be unto God 😭😭😭😭. Family, we are officially crowned Idols SA winner of Season 18, 2022. All this is because of the mighty God we serve. We have seen his power and ability. Thank you family for all your votes and support throughout. I have seen your love pic.twitter.com/c81agZKcSN

— Thapelo (@Thapelo_molom) November 13, 2022