South Africa: The MEC for Health, Dr Phophi Ramathuba, Executive of Polokwane Cllr J Mpe, Executive Mayor of Lepelle Nkumpi M Molala, Executive Mayor of Capricorn District Cllr Teffo are leading a Run/ walk to pledge support for people living with Diabetes.
The Run/ walk also aims to highlight the importance of Diabetes Prevention through regular exercise and healthy eating.
Diabetes is a chronic disease that appears either when the pancreas does not produce enough insulin or when the body cannot actually use the insulin it produces. Insulin is a prominent hormone that regulates blood sugar.
---
---
The 2021 report on mortality and causes of death by Statistics South Africa found that Diabetes is the second deadliest disease in the country. An estimated 4.5 million people in South Africa have been diagnosed with Diabetes.
Almost every second, people in society are affected by this growing epidemic; every one of us knows someone or has a family member living with it.
Undiagnosed, untreated, and uncontrolled Diabetes leads to serious complications such as blindness, strokes, kidney disease and amputations.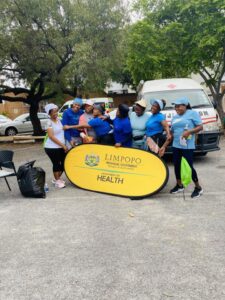 Health MEC Dr Phophi Ramathuba said, " it is important that people with Diabetes maintain good control of their condition to help reduce and avoid long-term complications." 
This year World Health Organization (WHO) also joins Nigeria's government in order to celebrate Diabetes Day with the theme: "Access to diabetes care". The day is set aside to grow awareness of the growing load of this disease and strategies to control and manage the threat.
13 years back, in 2007 General Assembly took resolution 61/225, designating 14 November as World Diabetes Day. The motive of this resolution was the urgent need to pursue multilateral efforts to promote and improve human health and provide access to treatment and healthcare education.
Image Credit: LIMPOPO DEPARTMENT OF HEALTH (BOPHELONG)