Mauritius: A ceremony to pay tribute to the late Ariranga Govindasamy Pillay, Grand Order of the Star and Key of the Indian Ocean (G.O.S.K), former Chief Justice of Mauritius, was held at the Supreme Court of Mauritius, in Port-Louis, on 10 February 2023, in the presence of Chief Justice, Mrs Rehana Bibi Mungly-Gulbul.
Chief Justice Pillay passed away on 05 January 2023 at the age of 77.
The Attorney General, Minister of Agro-Industry and Food Security, Mr Maneesh Gobin, members of the Judiciary and relatives of late Ariranga Govindasamy Pillay also gathered to honour the former Chief Justice.
The rich judicial career and achievements of the late Mr Pillay were highlighted by Chief Justice Mungly-Gulbul. In 1987, from Law Officer, Mr Pillay became Puisne Judge of the Supreme Court and served in that capacity until 1996, when he became Acting Senior Puisne Judge. He was eventually appointed to the supreme post of Chief Justice of Mauritius on 1 May 1996, whereupon he conferred the award of G.O.S.K. He served as Chief Justice for a period of 11 years, until 13 June 2007, one of the longest-serving Chief Justices in the country.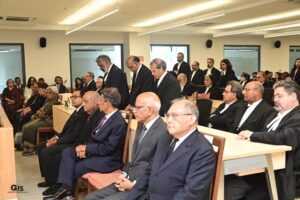 As for the Attorney General, he expressed the sincere appreciation and recognition of the State of Mauritius for the immense contribution of the former Chief Justice Pillay to the legal and judicial fields both locally and internationally.
He described Chief Justice Pillay's career as a remarkable one during which he served as Crown Counsel, Senior Crown Counsel, Principal Crown Counsel, Assistant Solicitor-General and Parliamentary Counsel from 1972 to 1986. He served his country together with other stalwarts, such as Chief Justices Glover and Lallah, during the challenging years following independence, observed Minister Gobin.
Furthermore, he lauded the landmark judgments made by Chief Justice Pillay in various areas of the law, including the Prevention of Terrorism Bill. Chief Justice Pillay became acting President of Mauritius for a period of 7 days and, in compliance with the provisions of the Constitution, gave his assent to the Bill, which went on to finally become law, and informed the Minister.
He dwelt on Chief Justice Pillay's passion for international law and human rights, which he remarked drove him to shine on the international stage.
In 1997, Chief Justice Pillay became a Member of the United Nations Committee on Economic, Social and Cultural Rights and went on to serve as Vice-Chairperson of that Committee after he retired as Chief Justice, from 2007 to 2009 and eventually as Chairperson between 2011 and 2012, recalled the Attorney General.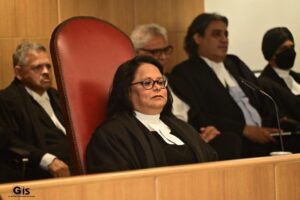 Minister Gobin also underlined that one of Mr Pillay's major achievements within the Committee was the finalisation of the guidelines on the independence and impartiality of members of the human rights treaty bodies, also known as the Addis Ababa guidelines.