Mauritius: The Mauritius Institute of Education (MIE), under the aegis of the Ministry of Education, Tertiary Education, Science and Technology, and in collaboration with the Rajiv Gandhi Science Centre (RGSC), is organising a two-day workshop and activities on 'Climate Change and Early Years', for pre-primary school teachers and managers as well as relevant stakeholders.
The event kicked off this morning, at the Frank Richard Lecture Theatre in Réduit, in the presence of the Acting Senior Chief Executive of the Ministry of Education, Tertiary Education, Science and Technology, Keerunduth Samlall; the Director of the MIE, Dr Hemant Bessoondyal; the Chairperson of the MIE Council, Dr Jayantee Naugah; the Resource Person from the University College London, United Kingdom – Institute of Education, Dr Lady Susan Dale Tunnicliffe; and other personalities.
The objective of the workshop is to, among others, equip pre-primary school teachers and managers with the appropriate knowledge, understanding and resources on climate change and its consequences, with a view to empowering young pupils on the way to protect themselves and the environment.
The workshop will focus on play in early childhood education, preparing the environment materials; teaching aids, experiments, practical hands-on activities; and resources for and discussions on play activities.
The Acting Senior Chief Executive Officer delivered, for the occasion, the opening address on behalf of the Vice-Prime Minister, Minister of Education, Tertiary Education, Science and Technology, Leela Devi Dookun-Luchoomun.
In her address, the latter stressed that global warming was the biggest threat that the planet was currently facing, resulting in a climate crisis with unprecedented consequences on ecosystems, as well as on the health, safety and security of the population, and impacting particularly Small Island Developing States (SIDS) such as Mauritius.
The Vice-Prime Minister recalled that climate change education was already being addressed at primary, secondary and tertiary levels. She informed that existing textbooks and modules incorporated sufficient learning activities to raise awareness of climate change among students.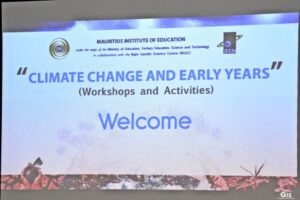 The importance of disseminating information on the dire consequences of climate change to children at an early learning stage was also highlighted to empower them to make informed decisions and take meaningful actions towards a more just, equitable and sustainable future.
The Vice-Prime Minister mentioned the necessity to hammer insistently and normalise the urgency of climate change while encouraging the internalisation of climate change at an early stage of learning.
Mrs Leela Devi Dookun-Luchoomun thus welcomed the initiative by the MIE and the RGSC. The initiative is in line with Sustainable Goal Development 4.7: to ensure all learners acquire the knowledge and skills needed to promote sustainable development, including, among others, through education for sustainable development and sustainable lifestyles.
Image credit: Mauritius facebook page