Mauritius: A ceremony to mark the International Day of Midwives 2023 was held, on Saturday, 06 May 2023, at the Mauritius Institute of Training and Development House in Phoenix, in the presence of the Minister of Health and Wellness, Dr Kailesh Kumar Singh Jagutpal, and other personalities.
Speaking on the occasion, Dr Jagutpal highlighted that the International Day of Midwife is observed annually on the 05 May every year since 1987 to honour the midwives' work and promote awareness about their importance in providing crucial care to mothers and their newborns.
"I seize this occasion to express my deepest respect and appreciation for the extraordinary and life-saving work that midwives do every day, often under very challenging circumstances," he pointed out.
Furthermore, he underlined that the theme for this year's International Day is "Together Again: From Evidence to Reality" and, through this theme, the International Confederation of Midwives wants to acknowledge the evidence supporting midwives' profession and the need to turn this evidence into improved respect, autonomy and working conditions for midwives and improved health outcomes for women and families.
The Health Minister indicated that according to the World Health Organization, hundreds of women die every day from preventable causes related to pregnancy and childbirth, some 6 700 newborns die daily, and about two million babies are stillborn worldwide. On this note, he stressed that Mauritius had known a profound transformation of its health services over the years, resulting in one of the lowest rates of maternal mortality and morbidity in Africa.
He observed that currently, in Mauritius, there are some 171 midwives employed by his Ministry posted mainly in Primary Health Centres; prenatal wards; postnatal wards, labour wards and; Gynae Outpatient Departments.
"These midwives are engaged in services such as Preconception care, Antenatal care, Labour and Delivery Care, Post Natal Care, Breastfeeding and Care of Newborn and Child as all these services are important points of care for women of reproductive age group and represent golden opportunities to address health issues and optimise the health of the mother," he said.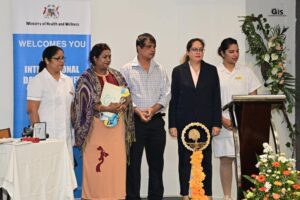 In addition, the Health Minister underscored that intending to enhance the level of care for women. Further, his Ministry has launched, namely: The Roadmap to Improve Maternal, Newborn and Child Health Framework 2020-2025; the National Action Plan on Breastfeeding 2022-2027; the National Sexual and Reproductive Health Policy and Implementation Plan 2022-2027; and the National Action Plan for the Prevention and Control of Sexually Transmitted Infections 2023-2027.
"To further enhance their professional competency, midwives are eligible for the Continuous Professional Development (CPD) programme which the Nursing Council of Mauritius organises," the Minister pointed out.
He added that his Ministry regularly organises CPD-approved training programmes and capacity-building workshops for health professionals, including midwives.
Dr Jagutpal reiterated that it is a must to ensure that every pregnant woman has access to a well-trained and caring midwife and quality maternal healthcare so that we would be much closer to a world where every childbirth is safe. On this score, he appealed to the midwives to stay in the service and continue with their specialisation instead of opting for Trainee Nurses, as this will inevitably create a shortage of staff midwives.
Image credit: Mauritius facebook page