South Africa, Mpumalanga: The Motivational Road Show for the 2023 grade 12 learners is moving at great speed across the Province. Yesterday was the turn of Nkululeko Circuit in Matsulu, City of Mbombela Local Municipality, to host MEC Majuba's Motivational Session.
The Session was attended by all the secondary schools in the circuit, namely Tikhontele, Masitakhe, Sibusisiwe, Kaapmuiden, Louisville and Sitfokotile high schools.
Nkululeko Circuit registered 82.1% in the 2022 National Senior Certificate Examination Results and thus earned position five out of 15 Circuits in Ehlanzeni District.
"We have deliberately called you the Class of Dreams to motivate you towards the realization of your true performance and worth as learners. We are quite convinced as a Department that you are well equipped and capable of making it past Grade 12," said MEC Majuba.
Furthermore, he added, "I am sure that most of you have already started preparing for your end year performance as this is an important and life-long assignment or project that begins on day one of the re-opening of schools."
The learners pledged to pass their grade 12 examinations with distinctions at the end of the year. The next Session will take place at Chief Albert Luthuli Local Municipality on Tuesday, 30 May 2023.
Yesterday, MEC Majuba visited Thembelihle ECD Centre this morning. The visit forms part of the MEC's programme to assess the status quo of ECD centres in the Province after the function shift in April 2022 from the Department of Social Development.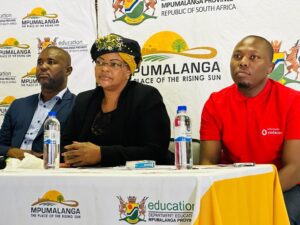 The ECD Centre was established in 1992 as Eyakho Creche and got a name change to Thembelihle ECD Centre. According to the Centre Manager, Mirriam Nkosi, the Centre caters for 110 kids in the 0 to 4 age bracket and 30 in the Grade R cohort.
"As a province, we have started to professionalize the ECD function through the training and development of ECD practitioners. The Early Childhood Development Institute located in Bushbuckridge in Bohlabela will assist us in this regard, as we have high standards and intentions for our children's education and development. We are here to assist the Centre in taking care of our children by offering quality education and care. We want our children to be better future citizens through education provision," said MEC Majuba.
The City of Mbombela Local Municipality pledged its support for the ECD programme through the MMC for Technical Services Cllr. DB Mkhatshwa.