Mauritius: A signature ceremony of Memoranda of Understanding (MoU) was held on Friday, 16 December 2022, in Port Louis, in the context of the implementation of the Zero Interest Medical Loan Scheme.
The Scheme is a tripartite collaboration between the Ministry of Health and Wellness, private clinics, and lending institutions, namely the SBM Bank (Mauritius) Ltd and MauBank Ltd.
The ceremony was held in the presence of the Minister of Finance, Economic Planning and Development, Dr Renganaden Padayachy; the Minister of Health and Wellness, Dr Kailesh Kumar Singh Jagutpal; the Chief Executive of SBM Bank (Mauritius) Ltd, Mr Anoop Kumar Nilamber; the Chief Executive Officer of MauBank Ltd, Mr Premchand Mungar; the President of the Association of Private Clinics, Dr Dawood Oaris; public officials, and representatives of private clinics.
In his remarks for the occasion, the Finance Minister underlined that the health and education sectors were the two critical pillars for the socioeconomic and human development of a country. He thus reiterated the Government's commitment to ensure that the population access quality health care and to find efficient solutions in the interest of citizens.
Image credit: Mauritius Facebook Page
"One of these solutions is enabling patients to receive specialised health treatment in private clinics that otherwise might be out of their financial reach," he said.
On that score, Dr Padayachy informed that Government would be reimbursing the interests to the lending institutions for loans taken by patients under the Zero Interest Medical Loan Scheme.
He commended this public-private partnership that, he stressed, would contribute to the betterment of the quality of life of the population.
As for the Health Minister, he recalled that this initiative was announced in Budget 2021 – 2022 and was a vivid testimony of the determination of the Government towards offering quality health care and advanced medical treatments to the population.
He talked, too, of the other budgetary measure relating to the funding of the cost of overseas treatment, to the tune of Rs 1 million, for treatments and surgeries not available in public hospitals, for family's earnings which were less than Rs 100,000.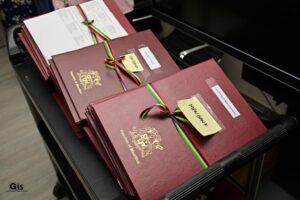 "From January to November 2022, under the Overseas Treatment Scheme, the Government disbursed some Rs 56.8 m for 244 patients treated for cardiac surgeries, renal transplants, cancer and orthopaedics," said Dr Jagutpal.
The Minister explained that with the signature of the MoU between the 18 private clinics in Mauritius and the lending institutions, patients would undergo treatment and effective postoperative care locally and recover with the support of their families.
Dr Jagutpal looked forward to both public and private health sectors enhancing healthcare delivery, enrol specialist surgeons in different fields as well as having proper training and equipment.
Image credit: Mauritius Facebook Page