Mauritius: The first batch of 199 graduates at the Doctorate, Postgraduate and Undergraduate levels received their certificates for having successfully completed their respective programmes at the Open University of Mauritius (OUOM) yesterday during a graduation ceremony held at the Mahatma Gandhi Institute Auditorium. Some 2000 graduates will be awarded certificates over a stretch of eight days.
The students graduated in various fields, including a Doctor of Philosophy, Doctor of Business Administration, Master in Business Administration, MBA with specialization in Financial Risk Management, BA (Hons) English, and BSC (Hons) Economics, Finance and Banking, amongst others.
The Chairperson of the OUOM, Dr Oomandra Nath Nath Varma, the Director-General of the OUOM, Dr Kaviraj Sukon, the Senior Advisor on Education Reforms of the Ministry of Education, Tertiary Education, Science and Technology, Mr Raj Dansinghani and other personalities were present.
Speaking on behalf of the Vice-Prime Minister and Minister of Education, Tertiary Education, Science and Technology, Mr Dansinghani congratulated the graduates and their families on their success while lauding their perseverance and determination.
---
---
He expressed his appreciation to the OUOM, which has been providing quality education and continuously striving to excel in education for the last ten years. "Today, the OUOM is one of the leading universities in Mauritius and a provider of distance education in the region," he stated. He commended the OUOM for providing open, flexible learning opportunities to learners of all ages.
The Senior Adviser urged the graduates to take the country to greater heights. He underlined that all countries across the globe slowed down in their activities because of the COVID-19 pandemic and the Ukraine conflict. "Your inputs will play a vital role in facing the economic impacts and fashion a stronger Mauritius," he said.
Mr Dansinghani also highlighted that it is high time for them to boost innovation capacity in Mauritius. He indicated that according to the Global Innovation Index 2022, Mauritius is ranked 45th out of 132 countries.
He, therefore, stressed the need to accelerate steps to embrace technology and improve the country's ranking. He wished the graduates a fulfilling career and all the best in their future life.
For his part, Dr Sukon congratulated the graduates, their families, and all the staff of the OUOM who have played a pivotal role in their success. He also expressed his gratitude to the educators of the OUOM for shaping the lives of students through their knowledge and experience.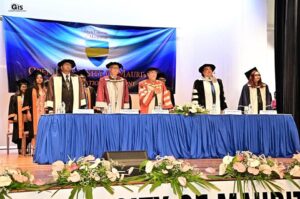 Learning, he underpinned, has always been challenging, adding that the theoretical frameworks and methodologies that they have learnt will prove instrumental in decision-making abilities and advancing their career. He urged the graduates to give exemplary performances as ambassadors of the OUOM in all spheres of life.
The Director-General further pointed out that the OUOM was celebrating its 10th anniversary and stressed that the organization would continue to strive to provide high-quality education, which is recognized worldwide.
Image credit: Mauritius Facebook Page