South Africa: Yesterday MEC for Human Settlements and Public Works Dr Mahlaba is conducting an inspection on Human Settlement Housing Project in Newcastle Local Municipality under the theme Operation Siyahlola.
His first stop was at the Hospital Street Social Housing project, where he was briefed on the progress to date. The Implementing Agent, Moteko Construction, presented a project overview together with the progress made so far.
One of the significances of the project is that the Contractor is using locally manufactured building materials and that they have subcontracted some of the work to the local youth contractors.
---
---
The project comprises 1056 units, with an anticipated completion of 200 units in the current financial year and an overall completion in 2024.
The entourage proceeded to the N11 CRU project, where the progress was once again presented by Motoko Construction. So far, the project is progressing well, with the completion of the admin block at 100 % and the installation of services such as sewer, stormwater reticulation, electricity and water at 90 % complete.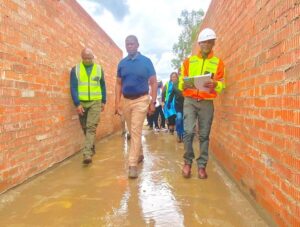 The project comprises 540 units with five complexes which are at various stages of construction. The project will contribute a total of 200 units in the current financial year.
The last stop was at the Madadeni H39 Housing Project, where the project stalled at the construction stage due to the challenges of the main bulk sewer line not being connected for internal services.