As everybody knows and is aware that the holy month of Muslims, "Ramadan", is going on, and everybody is excited, especially the Muslim community and ministers are also giving their best in order to give happiness to this community.
Even the President of Uganda, "Yoweri Museveni", hosts the Iftar dinner for the Muslims. Meanwhile, the Muslim community have reminded president Museveni about the pledge to renovate the Muslim National Mosque.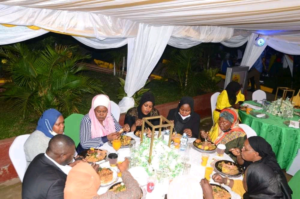 However, this pledge was also made in 2021. This reminder came as the president hosted an Iftar dinner at State House Entebbe, days before the end of the holy fasting month Ramadan.
Moreover, Muslims also threw light and urged the president to consider the COVID-19 frontline staff as a national hero and intervene in the commodity price crisis.
At the same time, some arbitrary arrests happened in Morocco for not observing the fast; they made these arrests in a cafe in the megacity of Casablanca on suspicion of failing to observe the Ramadan fast, which is penalised by Moroccan law.
Cafe customers and employees were also arrested because of the large crowd or public gatherings of citizens. However, the numbers are still unknown.
There was a video which is going viral nowadays showing the police officers leading young girls and boys, one by one, from the cafe to a van of police.
Last week, NRM also held an Iftar dinner for Muslims in Kampala headquarters.
The Muslim faithful worldwide are currently observing the Holy month of Ramadan by fasting as one of the five pillars of Islam.
Speaking during the dinner, the NRM national Vice Chairperson, Alhajji Moses Kigongo, urged Muslims around the country to continue with the good behaviour they exhibited during the holy month of Ramathan even after it ended.
Deputy Ambassador, Embassy of Uganda in Libya at Ministry of Foreign Affairs also tweeted, "Honoured to join in breaking the Ramadan fast. Peace and prosperity be upon."
Honoured to join @NGRPresident to break the Ramadan fast. Peace and prosperity be upon #Nigeria and @Africa. @GeoffreyOnyeama, @GenJejeOdongo, @NigeriaGov, @GovUganda, @GCICUganda, @daily_trust, @newvisionwire. pic.twitter.com/vm0JuHhp89

— Nelson Ocheger (@NelsonOcheger) April 29, 2022