Saint Lucia: Saint Lucia Deputy Prime Minister Ernest Hilaire joined the District Education Officer in District Four to celebrate the 44th Independence Anniversary of the island nation. On the occasion of the 44th Independence Anniversary Ministry of Education, Sustainable Development, Innovation, Science, Technology and Vocational Training launched a rally Yesterday, Tuesday (February 21, 2023).
The rally updates were shared by Deputy Minister Ernest Hilaire through his official Facebook account. He also posted pictures with a caption in which he stated, "It was with pride and honour that I joined the District Education Officer."
The 44th Independence Anniversary is being celebrated by both teachers and students in District Four. According to Ernest Hilaire, this celebration was a fantastic event that showcased not only the theme of the occasion but also the great amount of talent that Saint Lucia has within its borders. This celebration was truly a joyous occasion for everyone involved.
---
---
The celebration of Saint Lucia's 44th anniversary of independence was marked by a tastefully arranged event held at the auditorium of Stanley Jon Odlum Memorial Secondary School.
During the official launch of the 2023 Independence celebrations on January 30, 2023, the government of Saint Lucia released a schedule of events. In collaboration with partner agencies and stakeholders, the Independence Standing Committee has planned 15 diverse activities to commemorate the 44th anniversary of the country's independence.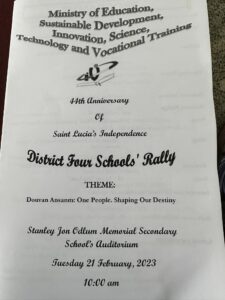 This year's theme of the Independence celebrations is 'One People, Shaping Our Destiny'. In the Saint Lucian language, it is known and famous by the name of Douvan Ansanm. These activities are being played to emphasise national pride, engender community spirit as well as build fellowship amongst Saint Lucian citizens.
Furthermore, the Saint Lucia government also highlight the achievements of foreign consulates as well as the Diaspora community of Saint Lucia, who hosted Saint Lucia Independence celebrations activities and wished all Saint Lucians a Happy and safe celebration of 44th Independence Anniversary.