South Africa: The driver of a white Toyota Tazz was killed after he was shot multiple times by the occupants of a bakkie in Amoutana – KZN last night (Thursday).
Reaction Unit South Africa (RUSA) received a call for medical assistance from the South African Police Service (SAPS) at approximately 20:27. RUSA Medics were dispatched to the scene and, on arrival, located the light motor vehicle down an embankment resting against a house.
The driver was located in the rear seat. He sustained multiple gunshot wounds and was pronounced deceased.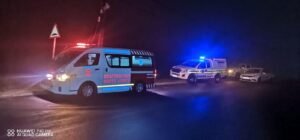 According to a witness, the occupants of a white Toyota Hilux were driving behind the Toyota Tazz when they opened fire on the deceased's vehicle. He continued driving when a second volley of shots was fired in his direction. The Toyota Tazz then rolled down a steep embankment in reverse before it collided with a house.
The motive for the murder could not be confirmed.