South Africa: October has been denoted as Transport Month in South Africa, whereby the Department of Transport and its entities will showcase transport infrastructure services in aviation, maritime, public transport and roads. 
The 2022 transport month is celebrated under the theme: "Sishovingolovane, infrastructure that sustains livelihoods."
Today, 7 October, officially marked Steve Tshwete Local Municipality's Transport Month launch with major roadblocks.
This was an opportunity for Traffic Services to be all out and enforce very strict transport rules and regulations of the roads within the municipal area.
---
---
Their presence was really felt by road users and passengers alike. Traffic offences such as drivers' fitness, unroadworthy vehicles and overloading were the main focus.
The roadblocks yielded much-needed results as the Transport Month launch programme was able to stop more than 5 000 cars. In Middelburg, 70 fines were issued. 49 of those fines were general offences.
Law enforcement was affected by 17 unlicensed motor vehicles. These were followed by offences of nine driving without a driver's license. The rest of those fines were speeding fines.
At least 12 people were found without hawkers permits, and eight warrants of arrest were executed.
In Hendrina, 61 fines were issued; 45 were normal and 16 for speed. An overall total of 131 fines were issued, and no anomalies were reported, both in Middelburg and Hendrina.
STLM's message during Transport Month is: "Motorists must be tolerant with one another on the roads, particularly during load shedding."
Random vehicle testing for roadworthiness can be expected. Therefore, motorists are urged to cooperate with the Traffic Officers.
Those who haven't paid nor made arrangements for traffic fines are urged to do so and avoid unnecessary delays and the possibility of being arrested.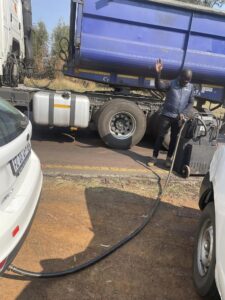 In this regard, the Municipality will, for the next three weeks, showcase modes of transport, safety tips, and the road infrastructure.
A prayer session with the local taxi association, pastors and all interested parties will be held at one of the Municipality's high accident zones.
Further communique and details will be communicated throughout the month.