St Kitts and Nevis: St Kitts and Nevis Prime Minister, Dr Terrance Drew, hosted two visiting ambassadors accredited to the Federation on Monday, April 24th, 2023, at the Prime Minister's office.
As per the sources, in his first meeting, Prime Minister Dr Drew met and had bilateral ties with the Switzerland Ambassador to St. Kitts and Nevis, Rita Hämmerli-Weschke. Ambassador Rita Hämmerli-Weschke came along with the Honorary Consul General of Switzerland, Ernest Amory.
After a meeting with Rita Hämmerli-Weschke, PM Drew received the Ambassador of the Republic of Peru accredited to St. Kitts and Nevis, María Cecilia Ross Ponce de León.
---
---
The ambassadors of Switzerland and Peru came to St Kitts and Nevis in order to participate in the country's 2023 diplomatic week of activities.
Press Secretary to the Prime Minister Adelcia Connor-Ferlance and Orin Roberts, Foreign Service Officer in the Ministry of Foreign Affairs, were present for both meetings.
While in St. Kitts and Nevis for Diplomatic Week, several Ambassadors who are stationed overseas took time to interact with and share their experiences with students of the Clarence Fitzroy Bryant College (CFBC).
On Sunday, April 23rd, diplomats, including foreign ambassadors, local ambassadors, honorary consuls, and Ministry of Foreign Affairs personnel, participated in a worship service at the Antioch Baptist Church, thereby invoking a blessing upon the commencement of Diplomatic Week 2023.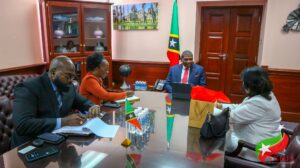 This year, the theme of Diplomatic Week, "Driving Change: Advancing a Vision for a Sustainable Island State," presents an opportunity for the government to engage in dialogue with foreign nations.
Prime Minister Dr Drew is delighted to meet with the delegates from different countries and tries his best to talk to them and work on their ties with other countries globally so that everyone can know the country internationally. The Labour Party government of St Kitts and Nevis is doing a lot on its behalf to advance the country and bring noteworthy people into it.