South Africa: The Commissioner of Water Utility and Regulation Department in the Ministry of Water and Environment; Engineer Tumusiime Christopher, on behalf of the Permanent Secretary; Mr Alfred Okot Okidi, officiated at the Draft Tariff Policy Presentation that was held at Royal Suites Hotel in Bugolobi, Kampala.
The Ministry of Water and Environment received funding from the African Development Bank to carry out a Tariff review and Update the Tariff policy through the Strategic Towns Water Supply and Sanitation Project.
The overall objective of this study is to review the existing tariff policies and regimes operating in the Water sector and develop a consolidated tariff policy for both networked and non-networked water supply systems.
---
---
The Consultant, Athena Infonomics in association with WSS services Uganda ( Ltd), presented the draft report of the tariff policy.
The tariff policy that has been in existence since 2009 is perceived to be very old, given the significant changes in the institutional arrangements and structures within the Water Supply and Sanitation sector.
It is important to note that the study will only set tariffs but provide guidelines for tariff setting in the provision of water supply and sanitation services.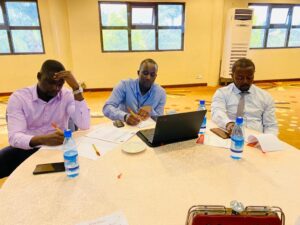 This policy is being reviewed by the Water Utility and Regulations Department, Rural Water Supply and Sanitation Department, Urban Water Supply and Sewerage Services Department, Umbrellas of Water and Sanitation, National Water and Sewerage Corporation, Kalangala Infrastructure Services Ltd, a private operator in Kalangala and Buikwe District Local Government as the Water Authority for Water supply systems for fishing communities.