Mauritius: A Certificate Giving Ceremony in recognition of some 80 unemployed persons who have completed a three-month training in the ICT/BPO sector was held today in Ebène.
An initiative of the Human Resource Development Council (HRDC) under the National Training and Reskilling Scheme (NTRS), in collaboration with the Outsourcing & Telecommunications Association of Mauritius (OTAM), is the training aimed at meeting specific sectoral needs.
The beneficiaries received training in three different programmes, namely, Web Development for Beginners, Essentials of Coding, and Call Centre Agent.
---
---
The Permanent Secretary of the Ministry of Labour, Human Resource Development and Training, Mr Prem Pirthee; the Chairperson of the HRDC, Mr Gunness Balnock; the Chairperson of OTAM, Mrs Jenny Chan; the Director of the HRDC, Dr Raj Auckloo; and other personalities were present.
In his address, Mr Pirthee congratulated the beneficiaries for the skills and knowledge gained during the past three months, adding that some of them have already found a job in the ICT/BPO sector after their training. He further indicated that the ICT/BPO industry contributed 7.4 % to the GDP in 2021 while emphasising that the sector is flourishing in Mauritius.
Speaking about Government's commitment to promoting training, he highlighted that considerable resources for additional training programmes had been provided and commended the initiative of the HRDC for having offered the ICT/BPO sector training programme, which has helped the unemployed to find new jobs.
The Permanent Secretary also explained that many employers report difficulties in finding skilled labour. Hence, the need for more skilled and matching competencies in the job market, he said.
Mr Balnock, for his part, highlighted that the NTRS had provided the opportunity for unemployed individuals to reskill themselves. Government, he added, with the support of the HRDC, will continue to strive to support people in training and development.
As for Mrs Chan, she spoke of OTAM's objective to address the challenges and promote the ICT-BPO sector, which is one of the fastest-growing industries.
In his speech, Dr Auckloo explained that the NTRS tries to respond to the skills demand of the industry as most employers look for work-ready individuals who have the right set of skills. He encouraged more employers to communicate their skills requirements so that the right training programmes are accordingly developed.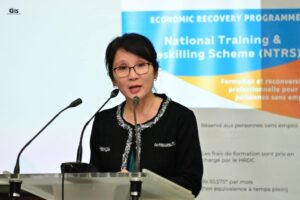 NTRS
The scheme is a post-COVID-19 measure introduced by Government under the Economic Recovery Programme to provide support to unemployed individuals through training and reskilling across different sectors. The training cost is covered by Government. Eligible trainees receive a monthly stipend of up to Rs 10,575 for full-time training or pro-rated based on attendance and contact hours of the training.