South Africa: Members of Air Force Base Hoedspruit, under the leadership of Lieutenant Colonel Christopher Hattingh, convened at the Drakensig Community Hall on Thursday, 01 December 2022, to commemorate World AIDS Day.
In his opening address, the Officer in Charge Health Centre Hoedspruit, Lieutenant Colonel Johannes Lebese, appealed to members of the Base to display solidarity in support of people living with Human Immunodeficiency Virus (HIV) and to remember those who have died from AIDS-related illnesses.
He recalled that World AIDS Day was first declared in 1988 after being endorsed by the World Health Organisation.
According to the HIV timeline, the first verified case of an HIV patient was confirmed in 1959; it was a known man who was living in the Democratic Republic of Congo.
Image credit: Police Facebook page
It is almost 34 years now amidst the global commemoration of World AIDS day. Lieutenant Colonel Lebese opined without a doubt that a solution to the pandemic will one day be found. He made a clarion call to all members of the Base to join each other in the fight against the HIV pandemic.
In remembrance of millions of people who have died from the HIV pandemic, candles were lit, followed by a moment of silence in their honour. Captain Kgomotso Kgole coordinated the entire programme. Mr Joseph Masia from the Department of Social Development urged Base members to exercise openness, honesty, unity, trust and love among each other.
He said, "this will assist in dealing with the stigma whenever it rears its ugly head. Those who aren't informed as to what HIV is should find out more to stay in the loop and get facts".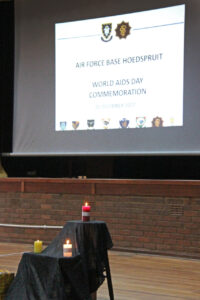 He urged the members to go and test so that they could know their status because everyone is affected. "Seek a counsellor if you are overwhelmed, a pastor, maybe a supervisor, or a trustworthy person to talk to in order to get help if the walls are closing in on you," he said.
According to the Acting Nursing Area Manager of Hoedspruit Health Centre, Captain Kwena Gwebu, the candlelight service afforded an opportunity for the Health Centre to make a holistic view of HIV services provision. Entertainment was presented by Thuli Moremi and her band. Captain Gwebu confirmed that it is the duty of the Health Centre to provide health-related programmes as per the health calendar. Extensive tailor-made services are also rendered in the Health Centre specifically for those who may acquire the service according to their respective unique needs.
Apart from her daily responsibilities, Captain Gwebu also does the Nursing Department's administrative duties while ensuring that both the clients and the nurses are taken care of professionally.
Image credit: Police Facebook page