South Africa: The most anticipated Amajuba District Mayoral Grade 12 awards were successfully hosted on Tuesday, 14 February 2023. The Mayor of Amajuba District Municipality, His Worship Cllr. uMntwana Ndabuko Zulu, together with Councillors, hosted the annual excellence awards in honour of the Grade 12 class of 2022.
The awards are designed to acknowledge and pay tribute to the significant role played by educators, parents, and learners towards the academic success story of Amajuba District.
The astonishing and esteemed ceremony held at the Black Rock Casino in Newcastle was attended by beneficiaries together with their parents, councillors, MPL S.S Zondo, Dr A. Mokoena, senior officials from the Department of Education and Municipal officials, Addressing those in attendance, the honourable mayor alluded. "I am very humbled to stand in front of you today on this historic occasion which aims at acknowledging the best performers in the District of Ambuja.Congratulations to the class of 2022; you have really made us all proud! You have made history and leaving behind a challenge to the class of 2023."
---
---
Cllr. Zulu assured the class of 2022 that, as the Amajuba District, they appreciate and acknowledge the efforts, commitment, support and hard work of guardians, parents, Teachers, and the Department of Education officials at all levels.
"Your dedication, enthusiasm and insight are really inspiring. I wish you many years of great achievements!." continued Cllr. Zulu.
Furthermore, Cllr uMtwana Ndabuko Zulu sent a heartfelt congratulatory message to the District's best performers." Well done! You are destined to make it big. This recognition is surely deserved and will give you an opportunity to spread your wings. Remember, this is not the end of your academic path; it is the beginning of a new journey."
Enthusiasm overflowed the room as the recipients and their parents treaded on the red carpet to receive their merited awards and prizes from the various categories, which included the School with the most Bachelors Passes, the Top 10 Candidates, the Most improved School, the Top Schools per Quintile and the Mayoral award.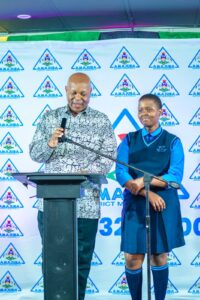 The Awards were presented as follows:
*Top 10 Candidates
1. SINAKHOKONKE SIYAYA
2. BHAVAN RAJESH
3. MASHABA NOKWETHEMBA
4. AMAHLE MATHE
5. ILAH FOURIE
6. SIMPHIWE MABUZA
7. MPILISO ZWANE
8. BOKAMOSO HABEDI
9. ANDILE MANDLENKOSI MANZINI
10. SINETHEMBA MTSHALI
*The Top 10 Schools with the most Bachelor Passes
1. PHENDUKANI HIGH
2. ST. LEWIS BERTRANDS SECONDARY.
4. ZIPHAKAMISENI HIGH
5. UMZILIKAZI SECONDARY
6. NEWCASTLE HIGH
7. DEDANGIFUNDE HIGH
8. FERRUM HIGH
9. INDONSA SECONDARY
10. ZAMA SECONDARY
*Most Improved Schools
1. INZULULWAZI HIGH SCHOOL
*Top Performing Schools per Quintile
1. SINQOBILE COMBINED
2. UMZILIKAZI SECONDARY
3. MUZOKHANYAYO SECONDARY
4. PHENDUKANI HIGH.
5. NEWCASTLE HIGH
*Mayoral Award
NGCAKA COMBINED
Image credit: Ambuja District Facebook Page