Amajuba: As part of the Mayoral festive season activities, the Mayor, Cllr Prince Ndabuko Zulu, together with councillors and municipal officials, embarked on a two-day programme which commenced on 23 December 2022; the municipal delegation successfully completed a door-to-door food relief drive and further a Christmas celebration for senior citizens in Dannhauser local municipality under the Mayor Cllr. S.E.C Kunene.
The intention of both programmes was to provide much-needed relief to underprivileged families by delivering over 250 food parcels to senior citizens and child-headed families, not just for Christmas but as a continuous programme that Mayor Cllr Zulu intends to adopt.
During the Christmas drive, Mayor Cllr Zulu had an opportunity to interact with community members that he has been entrusted to serve with integrity and provide sustainable solutions.
The mayor also identified households that need immediate human settlement intervention in regard to housing and infrastructure and will rally public/private partnerships.
During today's Christmas party for senior citizens, the Mayor alluded. When I was growing up, every Christmas Day at home, we would wake up, and the yard was full of local people who would accept the little things that my father had prepared for them. He didn't do this because he had a lot, but it was because he was a person who believed in the spirit of Christmas."
Furthermore, he added, "As a District, we understand, and we are aware of the challenges that the community of ward 12 is facing, and I can assure you that we are not turning a blind eye to it."
For a long time, the people of Danawozi have been complaining about the lack of water, decent places to relax, rampant crime, loss of livestock and drugs that are harming the youth that we hoped would be our future, and we are Maspala sent by the Nkatha party for the people's freedom.
We have a number of programs on the list that we have prepared so that we can fight all the problems that you are facing as a society, we understand that we cannot fight all the problems at the same time, but we promise that the programs we have will help the problems that do not represent the society.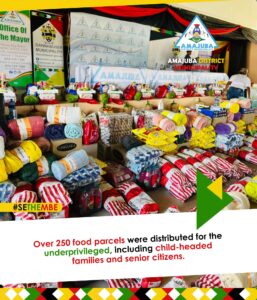 As we get ourselves ready to spend quality time with our beloved families and friends, we must always do so responsibly. We should be patient on the road, tolerate one another and drive to arrive safely at our various destinations. Let us all avoid drinking and driving, for that is the cause of many fatalities on our roads.
Our law enforcement officers will be dispatched throughout the municipality to ensure your safety during this season; let us bring delight to others with just one act of kindness.
On behalf of the council of Amajuba District's Municipality, I take this momentous opportunity to wish all of you a happy festive season and a prosperous new year.