Botswana: Ministry of Youth, Gender, Sport and Culture, through the Botswana National Youth Council, commemorated International Youth Day in Tsamaya Village in the North East District over the weekend.
Giving the key note address, Minister of Youth, Gender, Sport & Culture, Minister Tumiso Rakgare said the commemoration is a platform where young people are given space to express themselves on their views, contributions, and potentials in issues of human and national development, such as education, climate change, agriculture, employment, conflict resolution, social justice just to mention a few.
The planned activities to commemorate the day are also meant to afford young people an opportunity to advise development agencies on the challenges the youth face and relevant intervention action.
Botswana Minister Rakgare noted that the theme for this year's commemoration, 'Green Skills for Youth: Towards a Sustainable World', recognizes young people as key implementing partners in development approaches that seek to shift towards an environmentally sustainable and climate-friendly world. It also encourages all to ensure full participation and achievement of the Sustainable Development Goals (SDGs) that talk about the issue of climate change.
Minister Rakgare reiterated that youth are an essential component of building a climate-resilient and sustainable economy for the country of Botswana through green skills, knowledge and abilities.
Minister Rakgare stated the imperativeness of investing in young people as so supporting young people to find better solutions to the ever increasing global climate challenges. Botswana Minister, in conclusion, encouraged young people to position themselves to be at the forefront to influence decision making for a successful and sustainable green transition.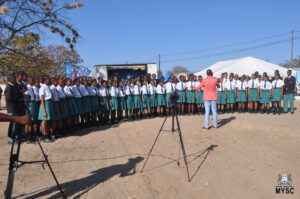 International Youth Day 2023 seeks to highlight the importance of the world's transition towards an environmentally sustainable and climate-friendly world that is critical not only for responding to the global climate crisis but for achieving the sustainable development goals.
Simukaupenye Integrated Youth Academy (SIYA) celebrates the incredible energy, passion, and potential of the young people who hold the key to shaping a brighter and greener future. "Green Skills for Youth: Towards a Sustainable World" Yet Trust SOS Children's Villages in Zimbabwe USAID Zimbabwe PaHukama National Youth Oryxes Foundation Culture Fund Bindura Arts Festival Aids Healthcare Foundation Embassy of Canada to Zimbabwe, Malawi, and Botswana Youth Aspire Development Trust