Dominica: The Fisheries Division collaborates with the Food and Agriculture Organization (FAO) of the United Nations and the Western Central Atlantic Fishery Commission (WCAFC) in adapting the regional Moored Fish Aggregating Device (MFAD) management plan to the national level.
This assignment aims to support the implementation of the recommendation made by the WECAFC MFAD working group in order to promote the sustainability of fisheries by using MFADs in the WECAFC areas, and it was strongly advocated by the European Union-funded project, "Support to the Secretariat of WECAFC in implementing targeted actions of the 2019-2020 Work Plan on improved regional fisheries governance."
The Ministry of Blue and Green Economy, Agriculture and National Food Security highlighted another important objective for the consultation in which they mentioned that their aim was to engage with the stakeholders in the Dominica FAD fishery in development of a national FAD management plan to identify.
Image credit: National food Security Facebook Page
Furthermore, the Ministry of Fishery highlighted another goal in which they prioritize issues related to FAD management in Dominica, to develop a management system for the FAD fishery and to establish a FAD management advisory committee locally.
Facilitators who were present at the one-day session were Dr Shelly-Ann Cox, Chief Fisheries Officer in Barbados, and Derrick Theophile, Fisheries Division.
Fishers, Fisheries Data Collectors, Fisheries Liaison Officers and staff of the Ministry of Environment participated in the session, reports emphasized by the Ministry of Blue and Green Economy, Agriculture and National Food Security, Dominica.
Ministry of Blue and Green Economy, Agriculture and National Food Security also highlighted their participation in this year's Global Robotics Competition dubbed 2022 FIRST Global Robotics Challenge – "Carbon Capture".
They shared one of the photos on their official Facebook page in which Lecturer Veronne Nicolas and Prof of Ocean Engineering at the University of Rhode Island, Brennan Phillips, showed their presence.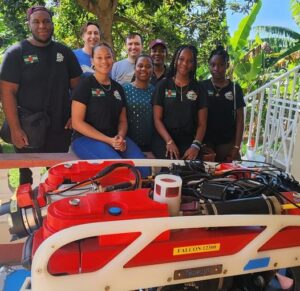 Project CETI (Cetacean Translation Initiative) is a scientist-led NPO and TED Audacious Project applying advanced machine learning and robotics in a bid to listen to and translate the communication of sperm whales.
PROJECT CETI is comprised of representatives from the Dominica Sperm Whale Project, the Government of the Commonwealth of Dominica, and Google Research, among others.