South Africa: The Free State Provincial Government and the Special Investigating Unit (SIU) held a stakeholder engagement in Bloemfontein, Mangaung Metropolitan Municipality today, 26 July 2023.
Premier Dukwana was joined by the head of SIU, Advocate Andy Mothibi, Members of the Executive Council, Heads of Department and government officials.
Premier Dukwana warned that the Free State Provincial Government, as he did during the delivery of the State of the Province Address in February, will no longer be known as a haven for corruption. On that Tuesday, 28 February morning, Premier Dukwana said about corruption, "Never again will this province be used as the breeding ground for corruption."
Against this background, the Premier issued a stern warning that malfeasance will not be allowed to flourish in government.
"We are tired of talking (about fraud and corruption). We are going to act against those who commit these crimes. We often see homeless people, in bitterly cold temperatures warming themselves with burning boxes, and that is precisely because people are not doing what is right," said Premier Dukwana.
Society added Premier, must scorn criminals who enrich themselves using public funds at the expense of ordinary members of the public. He said such characters should never be lionised but must be treated with the contempt they deserve.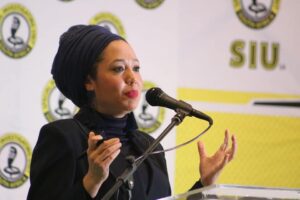 "We have turned such people into heroes, and that is wrong. We are not going to allow those people to undermine our work," he said. The Premier further challenged the SIU to investigate senior leaders such as MECs, Heads of Department, and even Premiers if there is suspicion of malfeasance.
"There is an expectation that, in accepting the responsibility of leading our people, we will be ethical, responsible and accountable. It is no use investigating junior officials while senior officials wreak havoc," he said.
Advocate Mothibi said establishing the Special Tribunal, which prosecutes fraud and corruption cases, has worked wonders. He also said companies on the wrong side of the law ought to be blacklisted.
"There are contracts worth R7,9 Billion which have been cancelled and the monies returned to the state, so we are doing well," he said.