South Africa: MEC for Agriculture and Rural Development, Saki Mokoena, handed over ten (10) expectant female cows and one bull to Tshepiso Matobako as part of Youth Day commemorations held at the Dr Rantlai Molemela stadium in Mangaung Metropolitan Municipality.
At the tender age of 28, Matobako is a successful farmer, and MEC Mokoena said the department was encouraged by her efforts and decided to support her.
However, Matobako could have easily taken a completely different career path. As a young girl, Matobako fantasized about life on the airwaves. The young lass also dreamt of a career as a beauty pageant queen.
Those dreams were quickly put to bed after Matobako, from Meqheleng near Ficksburg, made a visit to her cousin David's farm in Rosendal. Matobako was, following the visit to the farm, immediately hooked to life on the farm.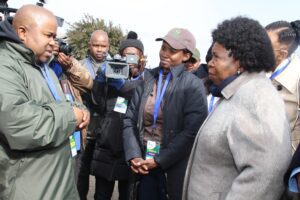 According to Matobako, "I would help with general work, such as feeding animals at the farm. That is when I began loving animals and literally pictured myself as a farmer," Matobako beamed. It would not be long before that dream was realized.
"I changed my subjects at school and chose agriculture as a subject, and my confidence skyrocketed. I was finally doing what I loved the most, and that was the beginning of my journey as a farmer," she says.
However, Matobako would encounter challenges which could have easily demoralized her, but her strong character, laced with resolve and tenacity, fuelled her to relentlessly follow her dreams.
"After completing Grade 12, I went to QwaQwa to pursue my agricultural studies. I had to drop out, though, because my mother lost her job and could no longer pay for my studies," she says. While naturally saddened by the reality she was faced with, Matobako never dropped her head.
She sought employment and, fortunately for her, found one at an eatery in Bethlehem. "On a good month, I would make as much as R2,500 from tips. I put it aside, and when I had enough, I bought two cows and five sheep," she says proudly.
In 2021, Matobako attended a Department of Agriculture and Rural Development-sponsored animal production course. Again, Matobako saved up the travel allowance she received and bought more cows.
"I also bought sheep and pigs. I now have 15 cows, 40 adult sheep, 15 lambs and six pigs. My cows are Bosmara breed while the sheep are Merino breed, which is revered for wool and obviously meat. As for the pigs, they are duroc, large white and F1 breeds. I am very pleased with the path I have travelled, and I still want to achieve more. My dream is to own a farm so that I can also plant crops, which in turn, will feed my livestock," said Matobako.
Her moderate success has resulted in Matobako employing two people to assist her with the daily running of the farm. One of them, Paul Radebe, says he is grateful for the opportunity to work for Matobako and provide for his family.
As for the young Matobako, the days of idolizing and even mimicking her childhood role model Palesa Chubisi are well behind her. The times she used to fantasize about blazing catwalks have been replaced with the daily tasks of wearing two-piece farm work suits and safety boots. Matobako is grateful and would not have it any other way.