South Africa, Free State: The Premier of the Free State province, Mxolisi Dukwana, led a government delegation to Welkom, Matjhabeng local municipality, for a meeting with the management of beef producers, Sparta Beef, on Thursday 29 June 2023.
Premier Dukwana was accompanied by the Member of the Executive Council responsible for Finance, Gadija Brown, the Director – General of the Free State Provincial Government Kopung Ralikontsane, Mayor Thanduxolo Khalipha of Matjhabeng local municipality and other senior government officials.
The meeting centred around how the parties could work together in addressing challenges in Matjhabeng, which have a dire effect on the operations of Sparta Beef which has a workforce of over eight hundred people.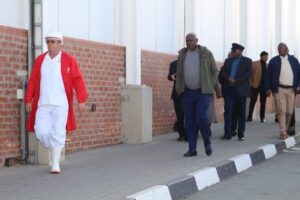 Theft of infrastructure such as cables and water valves has threatened the workings of the company. Mayor Khalipha acknowledged challenges in Matjhabeng but added that the municipality had taken steps to address them.
According to the Mayor, one of the interventions was the finalisation of appointing security personnel who will protect the infrastructure around the clock.
"It is in our interest to ensure that we protect this investment by Sparta. It is for the benefit of the people of Matjhabeng," said Mayor Khalipha.
Premier Dukwana said the government was committed to addressing challenges in that area, which will, in turn, save hundreds of jobs. He appealed to Sparta Beef to work with the government to empower young farmers, particularly the previously disadvantaged.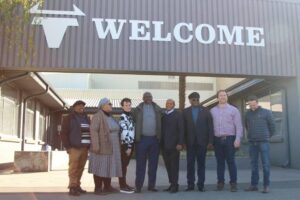 "MEC for Agriculture and Rural Development, Saki Mokoena, has been supporting young farmers with cattle. We appeal to you to help them, particularly black farmers, to supply you with cattle. This way, they will become a part of the whole value chain.
Sparta Beef is a big player, and this will help them a great deal," said Premier Dukwana. CEO of Sparta Beef Estelle van Reenen thanked the Premier for taking the time to pay them a visit.