Mauritius: The Minister of Arts and Cultural Heritage, Mr Avinash Teeluck, proceeded yesterday at Hennessy Park Hotel in Ebène with the book launch of "My Mauritian Kitchen" by Ms Yovanee Veerapen. The President of the Mauritius Chef Association, Chef Coopen, was also present.
"My Mauritian Kitchen" is a unique cookbook of Mauritian recipes written by a qualified dietitian. The book explores the art of culinary nutrition and seeks to provide a healthy touch to traditional Mauritian cuisine. It consists of recipes ranging from starters, salads, soups and main courses.
In his address, Minister Teeluck congratulated the author for her cookbook, which comprises some 100 smart, nutritious and delicious Mauritian recipes. He pointed out that Mauritian cuisine is a symbol of our multiculturalism and defines us as Mauritians.
---
---
The Mauritian cuisine is a true reflection of its population's mixed origins: a blend of flavours and colours that has preserved the diversity of the population's roots, he said.
He also added that we need to promote Mauritian cuisine and use it as an attribute in the development of cultural tourism.
Destination local cuisine contributes to the tourist's overall experience, and with the cultural diversity of the Republic of Mauritius, food can be associated with our destination sun, sea, sand and smile to attract new visitors and position Mauritius as a culinary tourist destination, he said.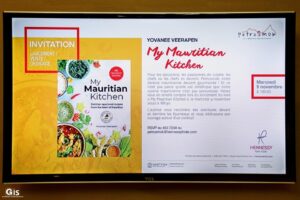 As for Ms Yovanee Veerapen, she stated that as a dietitian, she values local food and ingredients, along with promoting healthy and sustainable habits. She affirmed that true healthcare starts in the kitchen, adding that food should be enjoyed and that healthy eating is within everyone's grasp.
Speaking about healthy eating, she highlighted that the key to improving one's health and eating habits is to make healthier food choices without depriving oneself of the food one loves.
The cookbook, she said, revisits the main classical Mauritian recipes and aims to make them even more delicious and nutritious.