South Africa: In April, the province Kwazulu-Natal was hit by floods, and they could not have imagined the sheer scale of the devastation to communities and individuals and the destruction to infrastructure this would leave in its trail.
According to Premier of Kwazulu-Natal Nomusa Dube-Ncube,"It is with pride that today we are able to say our province is still standing firm. For this, we owe a massive debt of gratitude to our communities, business and sponsors who refused to stand by but decided, together with the government, to put their shoulders to the wheel and, in a demonstration of steely resilience, became the reason we are able to stand tall here today."
The rebuilding has seen billions of rand worth of infrastructure being erected and massive repair work being carried out to raise homes and buildings.
Premier ANNOUNCING MASSIVE PROGRESS ON RELOCATION:
Since day 01, work has continued unabated, and today we are pleased to announce massive progress in regard to housing the victims of the floods who were displaced from their homes, said Premier.
She added, "We made the commitment to the people of KwaZulu-Natal that as their caring government, we will do everything in our power to ensure that before Christmas, all flood victims move out of mass care centres and are housed in decent accommodation."
Premier Dube Ncube announced that their team fulfilled the commitment.
She also added, "We have just processed a total of 1046 families who were in mass care centres, and we are housing 531 of them here at this spacious Astra Building."
From the agony of being deprived of privacy and uncertainty, we have practically restored the dignity of our flood victims. The families will now be able to regroup and plot their future in a safe and habitable place, said Premier.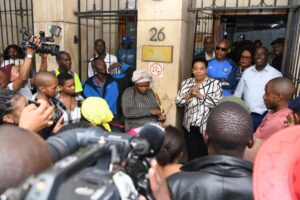 As a government, we have been hard at work to assist our communities in recovering from the tragic events of the April and May 2022 floods. We announce today that one of the sad chapters to all those who lost their homes is being closed. In the next seven days, there will be no flood victims living in a mass care centre in KwaZulu-Natal.
As a government, we have mobilised all available resources and are undertaking every effort to ensure that we rebuild and rehouse flood victims. No one is left behind.
Three buildings are being made available today, starting with the Astra Building in Russel Street, O' Flaherty Building in Sydenham and Pinetown Student Village.
This will see a total of 1046 community members who were accommodated at nine Halls being moved to decent accommodation under the Transitional Emergency Accommodation (TEA) programme.
The Mass care centres that will be shut down as a result of today's development are the Gospel Church, Chesterville, Mountview Hall, uMlazi K, Emaus, Tshelimnyama and Nazareth.
Other Relocations planned for this week are as follows:
• Mpola Hall(195 people);
• Rurafo Hall(158 people);
• Isithundu Hill (199 people);
• Marrianridge (120 people); and
• Truro Hall in PMburg (23 Families).
This is in addition to 191 people that are already at 120 O'Flaherty Road TEA. In KwaDukuza Municipality last week, we closed five mass care centres, and we are down to only four. All four will also be closed by Monday next week as people are moving to TRUs. We are finalising the connection of services.
The only remaining mass care centre in uMsunduzi will be closed this weekend as we move the families to Transitional Emergency Accommodation. We must hasten to raise a concern about the continued resistance by some community members of the Pietermaritzburg Northern suburbs who, on several occasions, have obstructed the interventions to build TRUs and permanent houses for Truro Hall flood victims in uMsunduzi.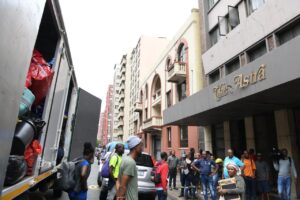 This is very clear. We have made many strides if you consider that over 14 449 people were displaced, with 4 983 left totally homeless. Seven months later, we are close to pronouncing that no flood victims will spend Christmas in a mass care centre.
Where we are is a completion of a herculean responsibility we have undertaken with due care and dedication. Even in the well-developed world that has experienced hurricanes way before us, some victims are still in shelters, but we are a caring government; hence we set our own standards, and we have spent sleepless nights proffering solutions in the best interest of our fellow citizens, said Premier.
She said the devastation caused by floods is unprecedented. Our recovery measures have been coordinated. Primary in our minds has been to address and alleviate the impact on communities and to restore their dignity.
Lest we forget, we successfully implemented immediate humanitarian assistance in the form of Social Relief of Distress Grants, food, water, shelter, sanitation, clothes and blankets.
The government also provided burial assistance, Death Certificates, Identity Documents, post-mortems, health services and psycho-social support. We undertook extensive work to restore basic services such as water, electricity, sanitation and waste removal. This work still continues as we rebuild major roads and infrastructure that was washed away.
The reality is that we are a province that is far better than the bleak situation of April and May 2022. We also note and appreciate the contribution of private sector partners such as Old Mutual Foundation and the Collen Mashawana Foundation, as we are now certain that three permanent houses for eThekwini flood victims will be completed before Christmas.
Whilst these families are housed in Transitional Emergency Accommodation, the process of preparing land for permanent development will be unfolding. To date, 14 land parcels are undergoing Statutory Approval procedures such as EIAs, and SPLUMA Approvals.
We wish to thank all our citizens for their patience; every day, we are seized with the task of ensuring that our province fully recovers from the recent setbacks. In some areas, things may have taken more time than anticipated. The rebuilding of infrastructure, in some instances, has taken months to complete.
Our capacity to meet all the needs at once has often been stretched, and at times we have had to attend to lifesaving and critical areas first.
We are working as fast and as quickly as we can to end all the frustration and anxiety. In this regard, we would like to express our sincerest thanks to all our communities for their patience, calm and understanding as we continue to work tirelessly to get our province rising again.
UPDATE ON THE RECENT RECENT RAINFALL IN KWAZULU-NATAL
The province has been experiencing torrential rains recently. Reports are indicating that the rainy weather will subside from today to Thursday, however, predictions are that the heavy rains will return over the weekend.
The weather service has cautioned us that for the next three months, the province is likely to receive more rain. The Disaster teams have since been placed on full alert, and all joint operation centres have been activated. A few incidents were reported from different District Municipalities, but no fatalities were reported.
The following is a breakdown of reported incidents:
10 houses in different wards under Umngeni Local Municipality were partially damaged. The affected households are to be assisted by the Umngeni Local Municipality with plastic sheeting, mattresses and blankets. 4 Households in the Oshabeni area in Ugu Districts were affected, assessments were being done, and relief will be dispatched thereafter.
1 lightning incident was reported in Nquthu, and another one in Emadlangeni Municipality.
A total of 10 Households in Ndwedwe Municipality have been affected, assessments are being conducted, and relief will be provided as soon as the needs have been ascertained. Midmar and Henley Dams in Umsunduzi Local municipality are reported to be overflowing, and there is a potential risk to households downstream.
The municipalities are doing awareness and monitoring the situation. A mudslide was reported at La Mercy under eThekwini Metro Municipality, where 30 to 40 houses were affected or flooded.
The teams and joint operations centres have been activated and remain on full alert to intervene. We appeal to communities to heed the weather warnings and to respond to advice from authorities in the interest of their safety.