Mauritius: The Minister of Youth Empowerment, Sports and Recreation, Mr Jean Christophe Stephan Toussaint, launched, yesterday, the Commission de la Jeunesse et des Sports de l'Océan Indien (CJSOI) Games 2022 Souvenir Magazine during an official ceremony at the Côte d'Or National Sports Complex. 
The Newsletter 2022 of the Ministry of Youth Empowerment, Sports and Recreation was also presented on this occasion.
The Permanent Secretary of the Youth Empowerment, Sports and Recreation Minister, Mr Marie Joseph Ramsamy, and other personalities were present at the event.
In his address, Minister Toussaint highlighted that the event is an opportunity to thank all stakeholders who have enabled the CJSOI Games 2022 to be a success. The Games, he pointed out, have provided Indian Ocean youths with an ideal platform to share experiences, develop friendly ties and compete among themselves at a young age.
The Minister seized this opportunity to remind us that one of the main sporting events to be held this year is the Indian Ocean Island Games (IOIG) 2023, which will be held in August in Madagascar. 
He added that some 900 persons would form part of the Mauritian delegation for the IOIG 2023. Other major events include: the Jeux de la Francophonie, to be held from 28 July to 06 August 2023 in the Democratic Republic of Congo, and the African Games in November in Ghana.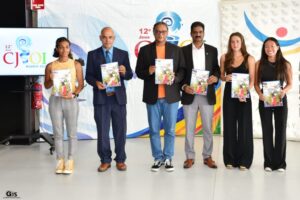 It is recalled that the CJSOI Games were introduced in 1994 by the Ministerial Committee of the Commission de la Jeunesse et des Sports de l'Océan Indien. Participating countries are: 
Comoros, 

Djibouti, 

Madagascar, 

Mauritius, 

Mayotte,

Réunion Island and 

Seychelles.
The main objective of the Games is to enable youth aged between 14 and 17 years to participate in international sporting events as well as promote cultural exchanges amongst Member countries of the Indian Ocean.
For the 12th edition of the CJSOI Games, held in Mauritius from 04 to 11 December 2022, the country bagged 46 gold medals, 45 silver medals and 48 bronze medals. The 13th edition of the Games is expected to be held in 2025 in Seychelles.
Image credit: Mauritius Facebook Page