South Africa, KwaZulu Natal: The MEC for Education in KwaZulu-Natal, Ms Mbali Frazer, wished the Arboretum Primary Schools' Sharks Robotics Team well on the upcoming international competition in the United States of America.
She was speaking at a ceremony organised for sponsors and a send off for the Sharks Team on 30 May 2023 in Richards Bay, in the King Cetshwayo District. The team will be representing South Africa on an international stage in the competition that will be held in the United States of America next month.
MEC Frazer extended her deepest gratitude to the sponsors of the Sharks Team for their commitment to education and belief in the potential of young learners. She further expressed her satisfaction that the Sharks Team is a balanced combination of brilliant, talented boys and girls.
Sponsors of the Sharks Robotics Team used the occasion to motivate the learners ahead of the upcoming robotics competition.
MEC Frazer also joined the sponsors in acknowledging the great achievement of the Sharks Robotics Team and in motivating the learners to represent South Africa well in the next competition.
"Embrace this opportunity to learn, grow, and forge lasting connections with your peers from around the world. Most of all, go out there and show them the brilliance and potential that South African learners possess," said MEC Frazer.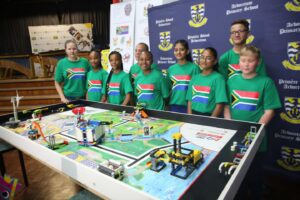 The Arboretum Sharks Robotics Team had the opportunity to practically demonstrate their talent in full view of all stakeholders. They will be competing with 95 teams from across the world in the June 2023 competition in the USA.
They also shared Venue, which is Arboretum Primary School, Richards Bay, King Cetshwayo District and this programme held on 30th May 2023.