South Africa: Speaking on the occasion of the handover of a donation of 180 full sets of school uniforms which was donated by Lowveld Mall – Twin City this morning, MEC Majuba explained the significance of school uniforms and further urged schools to try to get the services of local mothers to buy school uniform as this will stimulate the local economy.
Thank you very much for extending your invitation to us to grace this great and important occasion, said MEC Majuba.
Furthermore, he added, "We are grateful for the patriotic generosity that the management of this mall is extending to our learners."
Your gift of love goes a long way in instilling confidence, a sense of pride as well as a sense of belonging to the beneficiaries of your philanthropy.
As a Department, we believe that the wearing of school uniform is very much significant as it represents the ethos, corporate image and public standing of a school.
We live in a world where the way we look, our outlook and our image matter most. The way we dress is also significant as determined by our social standing and rightly or wrongly becomes the basis for acceptance or rejection in society. We are happy that your benevolence sought to encourage societal acceptance and belonging.
---
---
It is for this reason that parents, learners and the community at large must understand and appreciate the importance of a school uniform.
It is a universal norm and acceptable fact that school uniform provides a sense of security, equality and oneness amongst learners.
The greatest advantage of wearing school uniforms is that it does not give even the slightest chance to learners from richer backgrounds to discriminate and pick on the poor ones with regard to their clothing, and as a result, no learner may feel alienated, discriminated against or disadvantaged because of their socio-economic standing.
It is also a common cause that by wearing school uniforms, learners do not feel insecure about the way they look or their social status and hence the sense of having low self-esteem is inhibited.
As such, learners will not have the pressure to be distracted to conform to society in terms of their peers and will be able to keep their energies focused on learning and studying.
Understanding the importance of school uniforms and having a common dress code enables learners to freely express and define themselves, be it in the arts, sports, music or academics, irrespective of their social background.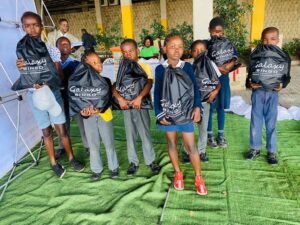 Wearing a school uniform is found to have the effect of reducing absenteeism, promoting school attendance, high levels of paying attention to their studies and instilling a lot of discipline, focus and good behaviour.
Most importantly, it induces presentation skills, which help them talk with confidence and gives learners a sense of motivation.
School uniform instils loyalty towards the school and encourages the attitude and spirit of working as a team, which is reflected when they have to represent their school at inter-school events, clubs, sports and competitions.
The strongest will to all of us is that school uniforms are expected not to be very much expensive even though they must help to improve the local economy.
It is for this reason that I am making a call to members of school governing bodies to look at the best way to solicit the services of local businesses and mothers to muster the trade of designing and crafting school uniforms.
They can thereafter trade them at malls and make a profit for the betterment of the local economy.
The Province has more than one million learners; imagine how many people can be employed if school uniforms and sports attire could be produced in each locality.
I request our principals to lead from the front in this regard and ensure economic stimulation for our people.
We are grateful for this support from Twin City Mall and Galaxy Bingo and to all who made this possible.
The value of your gift is much more than we can see and say. You are great South Africans who only want to see good for the future of these children and the nation. Your contributions do not go unnoticed.
On behalf of all the benefiting schools and learners, we extend our appreciation and wish you the best in your business.
We will reciprocate by ensuring that all the learners pass the final examinations at the end of the year.