South Africa: Speaking at the occasion of the Cleanest School Award Ceremony in Kruger National Park this morning, MEC Majuba reiterated the need to keep the school environment spotless:
"We are very much excited to launch the Inauguration Provincial Cleanest School Awards."
The Mpumalanga Department of Education is proud to acknowledge and honour the first School to win this prestigious award.
Keeping our school environment clean has always been in the heart of the Mpumalanga Department of Education and has been one of our apex priorities, said MEC Majuba.
Furthermore, he added that "It has always been our humble plea that communities must safeguard schools and rekindle a sense of ownership and pride as schools belong to communities and should be treated as their own possessions."
Schools are centres of excellence, growth and development and as such, their ambience and outlook must always be spotless and inviting.
---
---
These very sentiments are what gave birth to the "Rhandza Xikolo Xa Wena Campaign", which simply means "Love your School" in Xitsonga.
This campaign aims at mobilizing communities to volunteer their time and skills to make schools better places for teaching and learning to thrive at all times.
They need to lend a helping hand in cleaning, beautifying the school environment, renovating and refurbishing school infrastructure and fixing any broken material in schools.
The Cleanest School Programme is, therefore, a pinnacle event of the Rhandza XiKolo Xa Wena Campaign.
As schools are places of education where learners can socialize, develop and acquire skills that will help them in life, they thus form a basis for a child's development and setting the right tone through beautiful and clean spaces is ideal for optimum growth and development.
Studies prove that if a school environment is dirty or unkempt, it can actually have a negative effect on a child's overall learning experience.
One of the major reasons for absenteeism in School is sickness.
Keeping a clean environment as a school will therefore reduce the incidence of diseases among learners, which reduces absenteeism and will therefore lead to better learner performance.
Schools are expected to teach learners about waste management, reducing, reusing and recycling waste properly.
They need to teach children about environmental protection, global warming and climate change.
Speaking at the Arbor Day Celebration in Mpuluzi Secondary School in Gert Sibande yesterday, we emphasized how sad it is to witness the high levels of plastic and paper pollution in our schools.
We have also noticed that in some of our schools, learners and even teachers throw away papers, food leftovers, and plastics anywhere they please, while there are garbage bins designated for that.
This causes harm to our environment, leading to the negative effects of dirty schools and undisciplined learners as well as the huge worldwide effects of climate change and global warmings such as floods, hotter temperatures, severe storms and increased drought.
It is important that we should all take part in caring for the environment, as we are more dependent on the environment for shelter, resources and food. If we destroy the environment, we destroy ourselves as a suicide pact.
When we take care of our environment, it will retrospectively surely take good care of us.
As a Department, we wish that this award ceremony could propel us to work harder in keeping our schools clean, tidy and welcoming.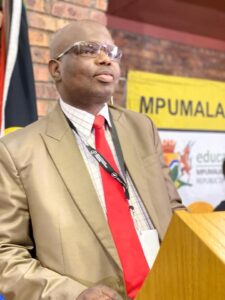 This will be in line with the concept of the old adage, "A healthy mind in a healthy body", as no healthy body or mind can thrive in a dirty environment.
Through this award, we wish that communities can celebrate with us all the positive aspects that derive from our schools.
We hope that in years to come, more schools will be able to enter the competition, and our adjudication panel will find it even harder to choose the cleanest School in the province as cleanliness would be a norm for all schools, and hopefully, this attitude will be carried over to the places of residence in every home, village and township.
We are truly grateful for the great interest from our Provincial and business community in buying into the concept of keeping our schools clean, safe and healthy.
We value pretty much the support of Old Mutual Foundation, Telkom, Fundi, and SASOL, who made these awards possible. We are grateful to our social partners and sponsors, and their support cannot go unnoticed.
As a Department, we share a view that next year we must make this big and even better. Today symbolizes a good start. Siyabonga Kakhulu.
We also wish to extend our sincere appreciation to the Adjudication Team that was led by Mr Dhlamini. We are grateful for the good work done. Please convey our appreciation to your Management. This is a true indication of what we stand to gain if we continue to work together. Thank you very much.
Programme Director, this award ceremony is not meant to divide our communities from quintile 1 to 3, as it puts rural schools under a microscopic view, but to provide an opportunity to prove that they too are capable of shining, even under trying circumstances.
They are proof that it is possible to rise to the stars irrespective of your background and location and with few resources at your disposal.
MEC Majuba concluded by saying, let us remember that "the state of our surroundings tells us the conditions of our soul."
In that regard, let us desire to dwell in clean environments.
This is an ideal with long life and global effects.
Let us hold hands and together teach, talk, preach and practice cleanliness as it is good for our environment, global weather and our health.
The survival of the human race depends on it.
Doing one's small bit at one's small will culminate in a bigger effort to conserve and preserve our planet.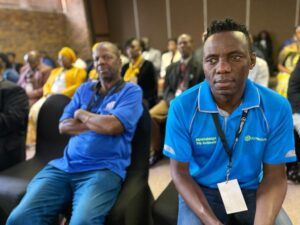 Together we can make it happen. Let us keep our schools clean.
Programme Director, allow me to congratulate all the schools that have taken part in this competition.
I wish to express our appreciation to all of them for exposing our learners to healthy attitudes and a tidy environment, teaching them good deeds in the process.