Mauritius: New traffic configuration in view to alleviating congestion at Vacoas has been set up on a pilot basis following several observations of key stakeholders after three weeks of the launch of Phase 2C of the Metro Express project connecting Phoenix to Curepipe, indicated today, the Chief Executive Officer (CEO) of the Metro Express Limited (MEL), Dr Das Mootanah.
He was speaking at the Vacoas Metro Park & Ride in the presence of the Director of the Traffic Management and Road Safety Unit (TMRSU), Mr Dharamdev Nathoo; the Assistant Superintendent of Police (ASP), Mr Ashok Mattar; the Mayor of Vacoas/Phoenix, Mr Praveen Kumar Ramburn; representatives of the TMRSU and the Mauritius Police Force.
---
---
Mr Mootanah pointed out that measures stipulated in the Traffic Master Plan are being applied to ensure smooth traffic flow, beneficial to motorists. The CEO of MEL also stressed that the first measure put in place is the increase in green time to 31 seconds so as to facilitate the traffic flow from Saint Paul to Savoy, which has improved the traffic flow by 20%.
Other measures elaborated by Mr Nathoo to further reduce traffic congestion include the setting up of a contraflow system between Savoy Junction to Jackson from this Thursday, 03 November 2022, from 7:00 a.m to 9:30 a.m, applicable only to motor cars during weekdays excluding public holidays. Mr Nathoo stated that another measure would comprise improving the Central Electricity Board (CEB) junction with three lanes which will help to contribute to traffic fluidity.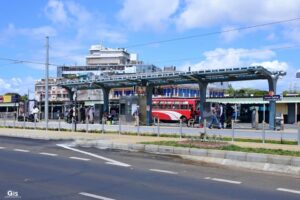 ASP Mattar explained that necessary traffic signs would be set up along with the presence of the Police to inform and guide users accordingly, and drivers are advised to exercise caution. According to him, it is a dynamic plan which has been carried out on a phase-to-phase basis with more green time from Savoy to CEB.
As for Mayor Ramburn, he called upon the collaboration of each and everyone while highlighting that an urgent solution is being provided to reduce traffic jams and improve the lives of citizens.