Mauritius: The Minister of Blue Economy, Marine Resources, Fisheries and Shipping, Mr Sudheer Maudhoo, announced this morning the application of more stringent penalties in respect of Illegal, Unreported, and Unregulated (IUU) Fishing, as well as arrangements being made for additional Fisheries Protection Officers to enable the Vessel Monitoring System to be operational round the clock.
The Minister was speaking during the launching ceremony of the two-day 54th Meeting of the Regional Coordination Unit (RCU) of the Regional Fisheries Surveillance Plan (PRSP), at the Palms Hotel, in Quatre-Bornes.
In his address on occasion, Mr Maudhoo expressed gratitude to the European Union Commission and the Indian Ocean Commission (IOC) for their support and assistance towards Mauritius in the fight against IUU Fishing as well as for the technical and financial support for the meeting being held.
He remarked that in recent years, there had been a deepening global focus on the serious impacts of IUU Fishing and the measures being taken to address this problem.
Therefore, added the Minister, it is of paramount importance to adopt good governance principles to achieve effective fisheries management that ensures fisheries' sustainability and maintains their contributions to economic growth, food security and livelihoods.
Furthermore, Mr Sudheer Maudhoo pointed out that the proposals made by the delegation from the European Commission's Directorate General for Maritime Affairs and Fisheries (DG MARE) in September 2022 on IUU Fishing are being catered for, to the extent possible, in the new Fisheries Bill and relevant regulations pertaining to IUU Fishing.
He also informed that in the regional context, Mauritius is fully participating in the PRSP "Plan Regional de Surveillance des Pêches Dans le Sud Ouest de l'Ocean Indien" to combat IUU Fishing under the ECO FISH project.
Also present at the ceremony, the Secretary General of the IOC, Mr Vêlayoudom Marimoutou, underlined that joint efforts are being made to meet the common goal of protecting our marine resources so that the sector can be leveraged as a pillar of regional development.
Besides, he expressed satisfaction as regards the target set for the undertaking of sea patrols and aerial surveillance in respect of IUU Fishing. He stressed that the EU's grant of two million euros to participating countries of the PRSP has backed up their efforts to address IUU Fishing.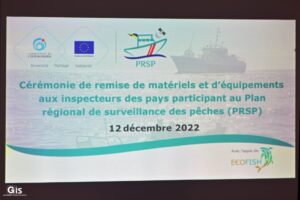 On that note, Mr Marimoutou underpinned the importance of continued cooperation to achieve coherent, comprehensive and effective actions.
During the launching event, Minister Maudhoo and other dignitaries presented remitted equipment to the Ministry's Fisheries Inspectors and to representatives of other countries of the IOC/PRSP, including Seychelles, Tanzania, Mozambique, Madagascar, Kenya and Comoro Islands.
The equipment consisting of security gear such as personal flotation devices, helmets, handheld GPS, waterproof cameras, laptops and tablets, were donated by the ECO FISH/ Indian IOC and the PRSP so that the concerned Officers are able to perform their duties efficiently during sea and air surveillance mission under the IOC/PRSP.
Image credit: Mauritius Facebook Page