Mauritius: Some 60 women who have completed various pieces of training on solar PV, entrepreneurship and communication skills under the Green Climate Fund (GCF) project were awarded certificates yesterday during a ceremony held at the Labourdonnais Hotel in Caudan.
The Minister of Energy and Public Utilities, Mr Georges Pierre Lesjongard; the United Nations Development Programme (UNDP) Assistant Secretary General and Regional Director, Ms Ahunna Eziakonwa; the Chargé d'Affaires, Australian High Commission, Ms Keara Shaw; the UNDP Resident Representative, Ms Amanda Serumaga; and other personalities were present.
The training in "Entrepreneurship and basics of photovoltaic" and "Skills development for solar PV value chain", was conducted by the UNDP in collaboration with MARENA, the Mauritius Institute of Training and Development, and the University of Mauritius under the GCF project. 
Assistance was also obtained from the Clinton Climate Initiative under the Clinton Foundation and from the Australian High Commission. 
The training highlighted the principles of photovoltaic technology, the basics of communications for community outreach, as well as enterprise development.
Image credit: Mauritius Facebook Page
In his address, Minister Lesjongard recalled that Government had placed women empowerment and gender mainstreaming at the centre of its development. It is in this context that we have adopted a National Gender Policy for the period 2022- 2030, which provides a framework for collective action by public and private-sector stakeholders to achieve gender equality, empower women and girls, and ensure their full enjoyment of all human rights in line with the United Nations Sustainable Development Goal No 5, he said.
He highlighted that the Policy outlines the Government's commitment to gender equality as a development and human rights concern adding that it aims to promote the inclusion of gender equality in legislation and policies and to ensure equal participation of women in decision-making.
Speaking about the renewable energy sector, Minister Lesjongard underlined that Government has pledged to shift to a low-carbon economy with the aim of helping Mauritius to achieve the 60% renewable energy target and phase out coal by 2030. 
According to him, the renewable energy sector has a large potential for job creation and is expected to create 7 000 jobs, out of which 60% will be from solar photovoltaic technology solely. Hence, solar photovoltaic has become a pillar in the energy sector not only in Mauritius but globally due to its high reliability and low maintenance cost, he stated.
He affirmed that his Ministry is working relentlessly to tap into its full potential and has reviewed the Renewable Energy Roadmap this year. The Roadmap, he added, charts a series of actions that are required, including gender mainstreaming measures in green jobs.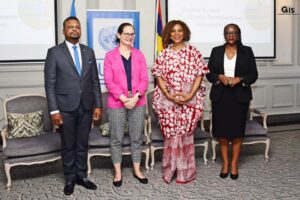 Mr Lesjongard further underlined that Government is investing in people through capacity-building programmes which are the main vectors for sustainable growth and development. These types of courses have been designed to help beneficiaries acquire the necessary skills to join the job market.
For her part, Ms Eziakonwa said that climate change is the single biggest issue facing humanity today and stressed the need to move away from our dependence on fossil fuels in favour of cleaner alternatives. The need for an energy supply that is both clean and affordable to ordinary citizens is of vital importance if society is to tackle both the climate crisis and cost of living issues in a sustainable way, she added.
Speaking about the project, she emphasised that it is aligned with the Government's National Gender Policy Framework, which aims to address gender mainstreaming through a number of initiatives. They include: 
Awareness campaigns on renewable energy for women and women entrepreneurs; 

Training programmes aimed at female-headed businesses as an empowerment tool; 

An identification of women-headed households to benefit from a fully subsidised solar PV system with the benefit of reducing their utility bills and also participating in the national green energy drive.
She also urged youngsters, especially girls, to pursue their studies in the field of renewable energy and appealed to relevant authorities to ensure that appropriate structures and environments are created to ensure that these youngsters obtain decent employment in the renewable energy sector.
As for Ms Shaw, she stated that as a fellow island nation in the Indian Ocean, Australia understands the urgency of responding to climate change. 
She said that Australia appreciates the partnership with countries like Mauritius, which have tirelessly advocated for climate change action in global forums. 
A significant part of Australia's embrace of renewable technologies has been through rooftop solar, she said while expressing satisfaction that Mauritius has similar laudable ambitions to increase the usage of renewable energy.
Image credit: Mauritius Facebook Page