Lusaka, Zambia: The OYDC Zambia hosted a meeting with the stakeholders and members of different sports associations on Friday, November 17, 2023. The Meeting was aimed towards developing the sports sector of the nation and utilising the sports facilities in the country.
The Meeting was graced by National Olympic Committee of Zambia (NOCZ) president Alfred Foloko. He was accompanied by OYDC Zambia Board Chairperson Simangolwa Shakalima and OYDC/NOCZ Board Member Dickson Jere.
During the meeting, NOCZ president Foloko implored sports associations to develop a culture of attending such meetings. He believes that through these initiatives, they can learn and understand. He also appreciated the operation of OYDC and told them how they can continue to utilise sports facilities, which are beneficial to developing sports in the country.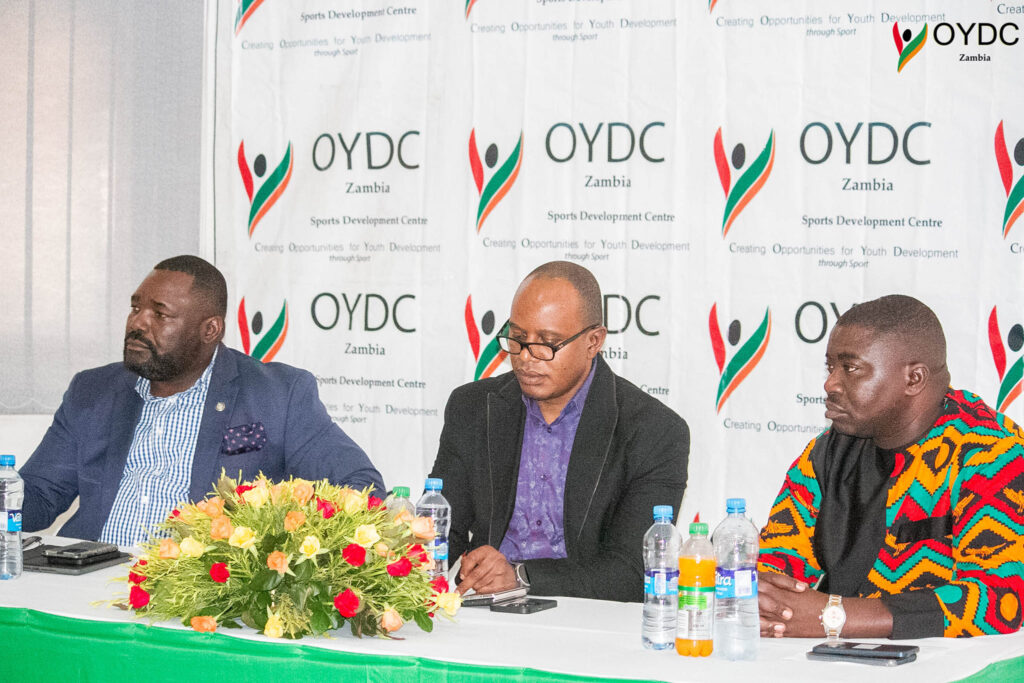 He said the NOCZ and OYDC Zambia Board remain resolute to be resolve issues arising in any matters. The Centre is a pride of Africa that produces well-nurtured athletes who can represent Zambia and other nations at various competitions.
The Meeting had representation from the Zambia Hockey Association, Zambia Boxing Federation, Zambia Taekwondo Federation, Zambia Table Tennis Association – ZTTA, Triathlon Zambia, Zambia Baseball & Softball Association, and Handball Association of Zambia, among others.
The Zambian author and Journalist Dickson Jere was also present among other delegations. He had the opportunity to hear their views on sports development.
The OYDC Zambia Chairman and the leader of the team, Simangolwa Shakalima (Centre) and National Olympic Committee of Zambia (NOCZ) President Alfred Foloko (right) and Board Member Dickson Jere.
The OYDC Zambia is a sports development community that provides positive sports and lifestyle opportunities for athletes, coaches, and sports administrators. The OYDC also aims to provide community development opportunities for young people and under-served population segments from the surrounding communities.
Additionally, the organization aims to deliver a high-quality sports environment that provides, motivates and breeds high-quality athletes and sports leaders.