The Zulu-Natal Government has done a lot, but even so, there is still a lot to be done in Mkhanyakude.
This was confirmed even by the Minister of Transportation, Mr Sipho Hlomuka, who accompanied the Mayor of Mkhanyakude District Municipality Cllr. Siphile Mdaka said that the people of Hlabisa have been living unsatisfactorily for a long time because of the Bridge facing the python.
He said that the Department decided to build this Bridge which will help the Hlabisa, Mpembeni and Mdletshe Traditional Council. This Bridge will connect the people and the City, and the Hospital.
Those who attended the Soy Butchering Ceremony thanked the Minister very much and said that the current Government seems to be coming very well, the people said.
Mayor Cllr. Siphile Mdaka, who echoed by thanking people, said, "the road we are walking is long looking for those who are brave and loving".
He then went on to say that he is very grateful to the Government led by Prime Minister Nomusa Dube and the President of the country, Mr Cyril Ramaphosa, for caring about the people of Hlabisa through this Bhulohwe where Phinde turned to the Minister and said to him "Mr Hlomuka, there are many places like this in Mkhanyakude that need your Department immediately in Jozini, Mhlabuyalingana, Mtubatuba Hluhluwe and here in Hlabisa".
Oka Magezane concluded by saying that he likes to cry a lot with the families whose relatives were killed in the massacre that took place in Phongolo, lamenting that no parent deserves the pain he saw in that Phongolo.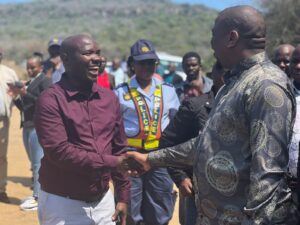 This event was attended by the Royal Kings, King Mdletshe and King Hlabisa, who were also very happy with this event. King Mdletshe said as he turned around, "I am very grateful to the current Government led by the Prime Minister of Kwa Zulu Natal for showing interest in the development of our people; he said always go to the Government, and we will work with you".
I had always said to my brothers that "it started enslaving". Tomorrow we are heading to Ndumo, and that's it! Let's not want to be acknowledged, and we work for the people; we are not the Government of events for our people!