South Africa: Exactly a month ago, on 17 April 2023, the Free State Provincial Government and Manufacturing, Engineering and Related Services Education and Training Authority (MerSETA) announced that the students' debt, which ran into millions, would be settled with institutions of higher learning with whom they were enrolled.
A total of 1,850 students from institutions of higher learning, such as Motheo TVET College, the Central University of Technology, as well as other institutions, finally received their certificates yesterday, 17 May 2023, at Central University of Technology's Boet Troskie Hall.
Premier of the Free State province, Mxolisi Dukwana, described yesterday's historic event as bittersweet, adding that, while he was happy that students finally received their certificates, he was also saddened by the high unemployment numbers affecting the youth.
"One is overcome with mixed emotions as long-suffering students finally receive their certificates. While on the one hand, I was filled with joy and pride that the students defied the odds and managed to complete their studies, I was also saddened that we are faced with unacceptably high levels of unemployment," said Premier Dukwana. 
The latest statistics paint a very grim picture. According to the latest figures, 32.9% of people are unemployed. This is quite worrying, and all of the people who wish to see the province progress ought to be concerned," Premier Dukwana said.
The Premier appealed to all the people of the province, including different stakeholders, to help reduce the rampant unemployment in the province.
She further asserted, "Most of the unemployed are relatively young people. And much as I was genuinely happy, as any parent would, to see our students receive their certificates, I was equally gravely concerned by this stark reality.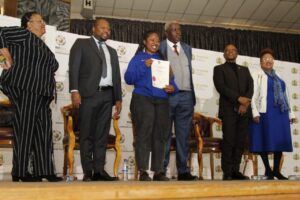 I am therefore making a call to all of us to redouble our efforts to turn this situation around. All of us have a responsibility to lend a hand and help change the situation. Equally, young people must also change their mindset, said Premier. 
We must encourage a culture of entrepreneurship amongst the youth. Being young and active as they are, I have no doubt that they are bursting with innovative ideas that will not only ensure a decent living for themselves but also create much-needed employment in our province," he said.
Premier Dukwana once again bemoaned excessive drinking by the youth, saying alcohol will bear them no results.
"It is truly heartbreaking to see most of our young people enslaved to alcohol, which does nothing for their career progression. I, therefore, appeal to our youth to refocus and reprioritize because, while the government is working hard to assist them, we also need them to assist us in changing their situation for the better, said Premier. 
We cannot achieve that if our youth are slaves to alcohol. Kopo ya rona ke hore bana ba rona ba emise ha nyenyane ka tahi."
The Premier concluded by assuring the people of the province that work is being done to transform the Free State into a prosperous province.
"I am, however, happy with the progress made today. This was but one of the first steps in moving the Free State province to its rightful place; a prosperous province for us all. My deepest gratitude goes to all who made this possible, in particular Manufacturing, Engineering and Related Services Education and Training Authority (MerSETA)," he said.
Image credit: Free State Facebook Page