South Africa: MEC for Sport, Arts and Culture, Mrs Nakedi Kekana, has congratulated Miss South Africa, Ndavi Nokeri, as she ventures into the Miss Universe ultimate pageant in a week's time in the United States of America.
Miss South Africa, Ndavi Nokeri, who hails from Tzaneen in Limpopo, will represent South Africa at the 71st Miss Universe Pageant on 14 January, which will be held in New Orleans.
23 year-old Nokeri is the third winner of the Miss South Africa pageant from Limpopo.
She follows Shudufhadzo Musida, who was crowned in 2020, with the first having been Bokang Montjane Tshabalala, who was crowned in 2010.
Sending a message to Ndavi, MEC Nakedi Kekana says, "You go, girl, you can only wear that crown once; just remember the little girls you left at your village in Tzaneen, that young girl in Soweto, KwaZulu Natal, Mahikeng, Cape Flats, the Free State, the Eastern Cape, Mpumalanga and everywhere else in South Africa. Just walk with confidence and remember those girls."
Ndavi Nokeri received a heroine welcome in August 2022, immediately after her crowning as Miss South Africa. The Limpopo Provincial government led by Premier Chupu Mathabatha and his MECs welcomed her at a gala breakfast and a street parade around Polokwane and Tzaneen, her home village.
"We are more likely to welcome Miss Universe around February here in Limpopo again. We are aware by then she will be representing the entire Universe, and that's what we will be waiting for because we are part of the global world', says MEC Nakedi Kekana.
Miss SA's official page also thanked Ndavi Nokeri for her Miss Universe contest and informed the audience where they could watch Ndavi Nokeri live.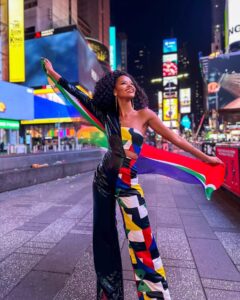 They tweeted: "If you are in SA, you will be able to catch Ndavi Nokeri live on the Miss Universe stage on 15 January at 3:00 AM (SAST) on DSTV channel 103. Are you ready for another watch party this year?
Exciting news! 🚨

If you are in SA, you will be able to catch @Ndavi_Nokeri live on the @MissUniverse stage on 15 January at 3:00 AM (SAST) on DSTV channel 103 @1MagicTV .

Are you ready for another watch party this year? #71stMissUniverse #ndaviformissuniverse #NdaviNokeri pic.twitter.com/4aRlnUojzG

— Miss South Africa (@Official_MissSA) January 5, 2023