Mauritius: The government is shouldering its share of responsibilities towards Special Education Needs (SEN) students, but it is the responsibility of educators to ensure that they are doing their part by providing learners with the support, love, respect and compassion that they rightly deserve, stated the Vice-Prime Minister, Minister of Education, Tertiary Education, Science and Technology, Mrs Leela Devi Dookun-Luchoomun.
According to GIS Mauritius reports, She was speaking today at the closing ceremony of a three-day symposium on harmonisation and promotion of programmes and policies on inclusive and SEN, organised by the Special Education Needs Authority (SENA), at Côte d'Or National Sports Complex.
The Director of SENA, Mr D. Authelsingh; the Chairperson of SENA, Mrs S. Oogarah; key stakeholders of the SEN sector; and other personalities were present.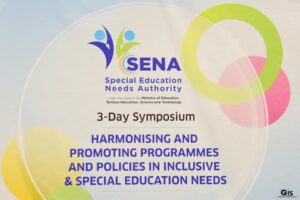 In her address, the Vice-Prime Minister lauded the contribution of the experts, educators, panellists, and all stakeholders of the SEN sector for the success of the symposium, which regrouped some 400 persons daily during the three days. Their active participation also shows their commitment to work for the betterment of SEN students; she pointed out.
Furthermore, She underlined that critical thinking and capacity building are key concepts that have been retained during the three days. As for the presentations, Mrs Dookun-Luchoomun indicated that they were very enriching as they laid emphasis on the need to reflect on the inclusive education system, the implementation of quality standards, and a change in mindset towards SEN students.
She further elaborated on the relevance of fundamental values in the SEN sector, namely the adoption of the right approach, respect for the views of learners, research and use of technology.
Imgae credit: GIS Mauritius Facebook image
For his part, the Director of SENA expressed hope that the symposium will deepen thinking and stimulate actions towards SEN learners as well as contribute to the adoption of inclusive education. The recommendations and outcomes will further reinforce the Action Plan of the SENA, he said.
The three-day symposium, facilitated by speakers from Canada, Iran and the United States, aimed at sharing best practices and experience in the SEN sector. Presentations focused on critical thinking in teaching and learning in the SEN sector, promoting equity and inclusion; complementary approaches and therapy for SEN learners; challenges towards inclusion for persons with disabilities; and causes and consequences of burnout in SEN teachers.
Imgae credit: GIS Mauritius Facebook image