Botswana: The Botswana Police Service (BPS) has received a Porta Cabin donation from the Japanese High Commission in partnership with the United Nations International Children's Emergency Fund (UNICEF).
The Porta cabin, which will be used as a Child-Friendly Centre, was handed over to the Police by UNICEF Country Representative Dr Joan Matji in Gantsi on 14.12.2022.
Speaking at the handing-over ceremony, Dr Matji commended BPS for showing a high level of commitment to delivering quality child-friendly services to all children who come in contact with the law, whether as victims or witnesses of abuse.
She said UNICEF is oblivious to the fact that change does not happen overnight, adding that the opening of the Centre in Gantsi will play a catalytic role in facilitating the reporting of cases of child abuse.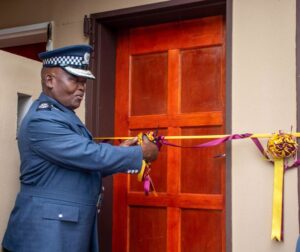 When receiving the Porta Cabin, the Deputy Commissioner of Police, Operations, Mr Solomon Mantswe, thanked UNICEF and the Japanese High Commission for the donation saying it would make a difference in the achievement of the organization's goals.
Mr Mantswe said the Porta Cabin, which is the third to be received as a donation from the Japanese High Commission in partnership with UNICEF after the ones donated this year in Shakawe and Letlhakane during the month of August and October, respectively.
The Deputy Commissioner said the tenets of a Child-friendly Justice system require a multi-sectoral approach, and therefore, it is crucial for all stakeholders to collaborate in the execution of the Action Plan for Child Friendly Justice System for Botswana.
---
---
He said this resonates with the organization's mission of 'providing a professional policing service in partnership with the community, as it recognizes the need for collaboration.
The Centre comprises a children's play area fully equipped with playing gadgets, a sleeping area, a kitchen, a consultation room and toilets.