Botswana: Botswana Ministry of Youth, Gender, Sport and Culture Botswana launched their Artsy Wednesday in which they launched Mumsie Odirile, who is an actress, motivational speaker, YouTube content creator, MC/Presenter, and Entrepreneur. 
She is permanently employed within the Ministry of Youth Gender Sport and Culture, under the Youth Desk and holds a Diploma in Theatre Arts from Algonquin College in Ottawa, Canada, and has recently graduated from the University of Botswana with a Bachelor's Degree in Fine Arts majoring in Theatre. 
Prior to her transfer to the University of Botswana, Mumsie was doing her second year at Concordia University. Mumsie has performed in college theatre productions, including 7 Stories by Morris Panych and Mambo Italiano by Steve Gallucio.
Several of the television and radio productions she has been a part of include Makgabaneng radio serial drama playing the role of "Dineo" (2001-2012), Motholeli on the No.1 Ladies Detective Agency (TV series), acting alongside Jill Scott and Anika Noni Rose, and Ntwakgolo television series in 2018 where she played a Nurse on the show. 
Mumsie is popularly known for her role as "Faith" on the show Botshelo Jo, produced by Botswood Movies (Flave Productions), which is in its fourth season and currently airs on Botswana Television (BTV1).
Stallion Creations is her newly established brand which looks to explore issues of personal development and focus on amplifying people's abilities over their disabilities and limitations and uses the world of social media to reach over 54,000 people across different age groups, ethnicities, and backgrounds on a daily to encourage them to live life to the fullest regardless of their circumstances.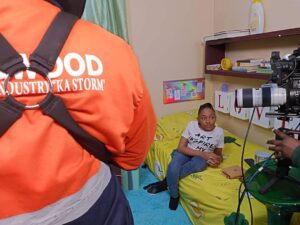 Her influence has opened doors for her as a motivational speaker on an international level, and she continues to strive to broaden her influence beyond the borders of Africa. Mumsie also offers MC and Presenting services. 
Her portfolio includes:
•Hosting the Ministry of Youth, Gender, Sports and Culture YDF Virtual Orientations (2022)
•The Abilities Expo 2022
•Thuto Boswa Rehabilitation Centre Graduation Ceremony (2022)
•The Comfy Fashion Show (2023), to name a few.
In 2021, Mumsie launched her online business TM Collections Boutique which is an online boutique that specializes in providing high-quality handbags and accessories for the trendy and modern woman. 
She was recently awarded the Her Abilities Award at the Women's Awards Botswana (2023), an award that celebrates and recognizes women with disabilities who are striving and achieving their goals regardless of their disabilities.
Mumsie credits her faith in God for her ability to rise above the challenges of life and discover her purpose, which is to make a positive impact in lives all around the world. She looks forward to breaking more stereotypes about disability and creating more opportunities for people with disabilities in the creative industry in Botswana and beyond.