Botswana: Commissioner of Prisons, Commissioner Dinah Marathe, has said that alignment to the Annual Performance Plan is crucial in ensuring that the Prison Service attains all the set objectives for the current financial year.
Addressing Officers at Tsabong, Tshane and Gantsi Prisons recently, Commissioner Marathe highlighted that Botswana Prison Service's Annual Plan has been finalized and cascaded to all the relevant structures within the Service.
She expressed hope that all the Stations were able to draw their performance plans which are aligned with that of the Service. She, therefore, urged them to ensure strict compliance with the plans as they will be expected to submit performance results on a monthly basis.
The purpose of the meeting was to meet, greet and apprise Officers on new developments destined to improve conditions of work and their general welfare. The meeting also accorded Officers an opportunity to provide feedback and come up with creative and innovative ideas to take the Prison Service to greater heights.
She reminded them that in order to achieve the Service mandate, being safe custodial care, rehabilitation and reintegration of offenders, every Officer in their own capacity has to understand and comply with all the government set standards.
She challenged them to acquaint themselves with the Commissioner's Roadmap, Government Priority Areas (The Reset Agenda), and the Transitional National Development Plan, which are all critical in attaining the National Vision 2036 aspirations.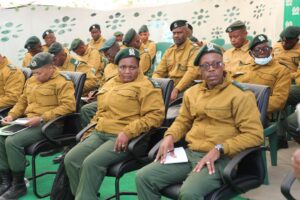 The Commissioner commended the stations for their efforts in forming the Offender Reintegration Committees in their catchment areas. She implored them to continue supporting the Committees for the successful reintegration of ex-offenders.
She pointed out that in an effort to intensify the implementation of the Reintegration Strategy, the Service will host the National Reintegration Conference in August this year.
She said Conference will help to gauge progress in so far as the implementation of the Strategy is concerned, as well as identify gaps and come up with corrective actions. She encouraged Officers to submit ideas, suggestions and initiatives on how to make the Conference a success.
Meanwhile, Commissioner Marathe called upon Officers to embrace discipline and cautioned them against issues of absenteeism and aiding prisoners to smuggle prohibited articles into the prison facilities.
She advised them to always introspect and gauge their level of discipline while protecting their integrity and that of the Service. She said as a disciplined organization, the Prison Service's success is dependent on collective effort, commitment and persistence. All these, she said, can only be achieved if each and every Officer embrace the culture of high performance and repositions and align with the Service's strategic direction.
Commissioner Marathe also had the opportunity to greet the prisoners and encourage them to fully engage in rehabilitation programmes. She pointed out that skills acquisition and character moulding programmes are critical in their successful reintegration into mainstream society.
The Commissioner was accompanied by Deputy Commissioner (Operations and Security) Anthony Mokento, Acting Divisional Commander South, Assistant Commissioner Ernest Molale and other Senior Prison Officers.