Mauritius: A Conference to mark the 20th edition of the Day of Dental Surgeries in Mauritius was held on 29 and 30 October 2022 at the Paradis Beachcomber Golf Resort & Spa, in Le Morne Peninsula, with the aim to allow dentists and dental specialists to share their expertise in oral healthcare as well as medical developments in that field.
The Minister of Health and Wellness, Dr Kailesh Kumar Singh Jagutpal; the President of the Mauritius Dental Association, Dr Kiran Ramdhany; the President of the Société Odontologique de Paris, Dr Marc Roché; and other personalities were present.
The Mauritius Dental Association organised the event in collaboration with the Société Odontologique de Paris. The Conference offered a platform to dentists from the public and private sectors to exchange on important topics, in terms of treatment and care, especially in pediatric dentistry, dental trauma in children or facial wounds.
---
---
The Minister of Health and Wellness, Dr Kailesh Kumar Singh Jagutpal, in his address on 30 October 2022, invited private dental practitioners to collaborate with their peers in the public sector so as to facilitate oral treatment in cases where such treatment is not currently available in the public healthcare domain.
He added that such collaborations should be maintained to contribute to the advancement of the medical field of Mauritius.
Each year, approximately 300,000 patients benefit from oral healthcare across public health centres in Mauritius.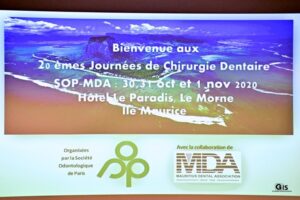 The Ministry of Health and Wellness Department of Dental Services has distributed 18,000 free oral health kits to primary schools in Mauritius, Rodrigues and Agalega, complemented by communication and awareness sessions on the importance of oral hygiene from an early age.
In addition, the National Action Plan Oral Health 2022-2027 was launched in June 2022 by the Prime Minister to provide a roadmap towards achieving universal access to quality Oral Health Services. It integrates the Sustainable Development Goal on health and aims to ensure health and well-being for all at every stage of life.