Mauritius: The Prime Minister, Mr Pravind Kumar Jugnauth, inaugurated this afternoon a Health Track in Ebène. The project, to the tune of Rs 16.2 million, consists of a health track of one kilometre, one petanque court, an outdoor gym, an amphitheatre, and a mini soccer pitch, amongst others.
The Minister of Social Integration, Social Security and National Solidarity, Mrs Fazila Jeewa-Daureeawoo; the Minister of Environment, Solid Waste Management and Climate Change, Mr Kavydass Ramano; the Minister of National Infrastructure and Community Development, Mr Mahendranuth Sharma Hurreeram; the Parliamentary Private Secretary (PPS), Mrs Tania Diolle; and other personalities were also present at the inauguration ceremony.
In his address, Prime Minister Jugnauth outlined that the health track offers adequate facilities so as to enable inhabitants of the region to practise regular physical activity in a natural environment, which is important in order to tackle health problems. He reminded that inculcating a sports and physical activity culture in the population remains one of the priorities of the Government.
---
---
The Prime Minister appealed to the inhabitants of the region, especially the youth, to avail all the infrastructures put at their disposal on a regular basis.
He moreover underlined the importance of a healthy and balanced diet in order to remain in good shape. The Government's determination, he outlined, is to sensitise every citizen so that the population at large is motivated to make the most of all sports infrastructures and other facilities available around the island.
Furthermore, Prime Minister Jugnauth remarked that regular exercise is not only beneficial for one's body but also ensures sound mental health and peace of mind. The Ministry of Environment, Solid Waste Management and Climate Change, he added, will also implement such projects in several regions around the island while ensuring that the ecosystem is preserved.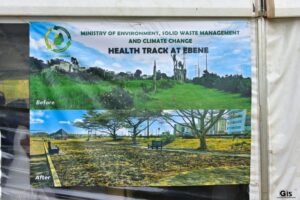 For his part, Minister Ramano underscored that the inauguration of this health track would enable the inhabitants of the region to practice regular activity and stay healthy. He informed that a greening project would soon be carried out in Ebene by his Ministry in collaboration with the Mauritius Prisons Service.
Other several projects are still ongoing and will further modernise our country, he added.
As for PPS Diolle, she observed that the health track would enable inhabitants to further socialise and remain in good health by practising physical activity. She stressed that Government continues to lay emphasis on the well-being of the population and also dwelt on other projects being undertaken in the region.