South Africa: Mpumalanga Department of Education claims that the tablets they gave to the 2022 cohort of Grade 12 learners remains a property of the Mpumalanga Department of Education, and as such, they are supposed to be returned on or before 07 December 2022.
Schools are expected to enforce a retrieval plan and ensure that all learners return every school material, including tablets.
Department also advised the students to return tablets before 7 December and keep that in their original packaging boxes. They also advised learners to keep the packaging material for the retrieval process.
---
---
In the event that the original packaging box has been lost, an appropriate box or bubble plastic may be used to wrap the tablet for submission to the Department.
There are many other things that need to keep in mind while returning the tablets; tablet chargers also need to be returned, and learners are allowed to replace any lost or broken charger.
For lost or stolen tablets, copies of affidavits or police case numbers must be submitted to the school.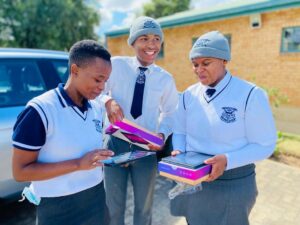 For tablets not retrieved and no justifiable reasons are advanced, as mentioned above, the principal of the school must open a case of stolen property against such learner and submit copies thereof.
Principals have been made aware of how to manage the logistical arrangements of this process and are expected to ensure compliance without fail.
Schools with a 100% retrieval rate will be prioritized for the replacement of damaged tablets and the provision of additional tablets where the number of grade 12 learners has increased.
Let's work together to ensure the success of this project.