Zambia: The Football Association of Zambia (FAZ) Technical Directorate successfully conducted a FAZ E Licence course in Northern Province that was held in Kasama.
Football Association of Zambia designated instructor Chris Chibuye ran the beginners' coaching course from July 10-14 with provincial chairperson Mwansa Kapyanga officiating at the closure of the training.
Kapyanga said the programme was in line with the Football Association of Zambia's broader plan to develop the technical experts in the provinces.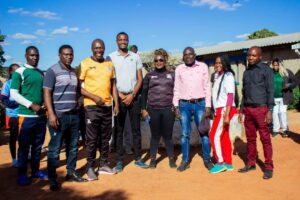 "It's in line with the Technical Directorate scheduled programs for the year, and the training had 56 participants from different Districts of Northern Province. This is especially important since the future of Zambian football is in the hands of the coaches who are handling the players at a grassroots level," he said.
"The players we train today will be the ones to take us to future AFCONs and World Cups. We also wish to encourage the coaches to make it a point to register with ZAFCA and appreciate the benefits of being formally recognised as a coach."
Kapyanga revealed that Northern Province had been consistent in holding training programmes for coaches in the last three years.
"We have made it a point to hold FAZ E courses in the province, and we have done so consecutively in the last three years, and capacity building in coaches, just like other officials, remains among the highly valued goals we hope to achieve," he said.
The FAZ Technical Directorate regularly conducts coaching courses starting with the elementary FAZ E, which is for beginners.
Note: Inquiries for the schedule can be directed to +260 978 45 00 00 (Chris Chibuye) or +260 975 145 069 (Lyson Zulu).