Zambia: FIFA consultant Andres Portabella has lauded the Football Association of Zambia (FAZ) efforts in establishing a club licensing system for the women's game.
And FAZ president Andrew Kamanga says with the women's game thriving, and it is time to consolidate the gains with a more concrete club licensing and administrative structure.
Meanwhile, FAZ women representative in the executive committee, colonel Priscilla Katoba urged clubs to embrace club licensing to develop the game.
Speaking during the opening of the FIFA/FAZ Club Licensing Workshop at Radisson Blu Hotel, Portabella FIFA had been working with FAZ for months in establishing a club licensing system for the women's game.
"FIFA, in collaboration with the Football Association of Zambia, has been working in the last months in establishing a club licensing system for the women's competition in Zambia," he said.
"From the FIFA side, we are very excited to see the work that the Zambia FA is doing with the clubs to increase professionalism in Zambian football for women's football competitions. We look forward to seeing a lot of improvement toward club licensing."
Meanwhile, the general secretary who represented the FAZ president said Zambia needed to translate the success of the women's national teams to the league level.
"The buzz around the women's game is at an all-time high and must begin to move to the next level where the fundamental structure is established. There is no doubt that our national teams have thrived even on the back of a rudimentary structure," Kamanga said.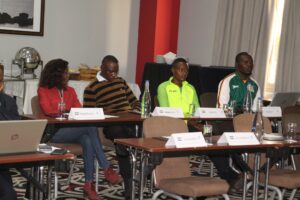 "Everyone knows the story of the Copper Queens that historically qualified for the Tokyo 2020 Olympic Games and now the FIFA World Cup. As we celebrate these milestones, it is time to establish solid structures to support this success. For this reason, we are happy to be here today to explore ways of ensuring that our clubs are fully appraised with the demands of the modern game."
And Katoba, who welcomed the new entrants to the women's super league, said women's football had carried the pride of the Zambian game in the recent past. The new entrants are Luyando Foundation, Police Blue Eagles, Kabwe Celtic and Chipata Girls.
"I wish to encourage stakeholders that club licensing is one of the items that are so important in our game. To professionalize our game, we have to know this thing, study it very well and keep it at the back of our minds and be able to see what is supposed to be done. I want to urge you to take it seriously and be able to know the dos and don'ts," she said.
Twenty clubs are gathered at Lusaka's Radisson Blu to familiarize themselves with the demands of club licensing. Zambia currently has a fully-fledged women's league with also the same cascaded to the provinces.