Zambia: FAZ Technical Director Lyson Zulu is among 25 participants in FIFA's prestigious new Technical Leadership Diploma launched in Brazil this week. Lyson Zulu joined other selected Technical Leaders from Member Associations and Confederations from around the globe at the Brazilian Football Federation (CBF) Training Complex in Rio de Janeiro for block one of the 18-month-long course.
The FIFA Technical Leadership Diploma aims to become the 'globally recognised qualification' for Technical Leaders working in the game and will prepare participants for the distinct challenges and opportunities faced by a Technical Leader within a Member Association.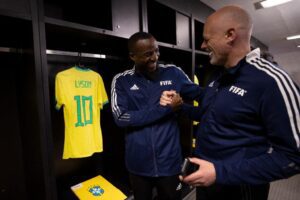 Five core domain areas will be covered:
Technical Leadership

High Performance

Coach Education

Amateur Football

Management
"I am really humbled to have been selected to be among the Technical Leaders attending the program in Brazil. I have really enjoyed networking and collaborating with people from different countries and backgrounds, sharing experiences and expertise," says Lyson Zulu.
"As FAZ, we take it as a great honour to have our Technical Director selected for this programme. We believe this program will greatly enhance the operations of his office and FAZ in general," says FAZ General Secretary Iva Lengwe.
"We are delighted to welcome Lyson Zulu onto our new Technical Leadership Diploma," says Steven Martens, FIFA Director of Global Football Development. "The role of the Technical Leader is crucial to the future of football, and one we believe should have greater recognition," added Martens.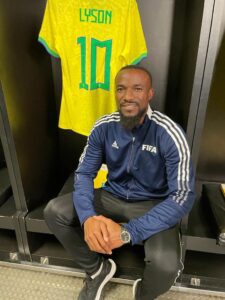 "Over the last few years, FIFA has been working closely with Member Associations to develop a number of programmes, such as the Talent Development Scheme (TDS).
"The successful implementation of these programmes relies on the leadership of Technical Leaders. So, naturally, we want to support, develop and work alongside Technical Leaders to help them become the very best they can be and, as a result, help develop the game," added Martens.
'Globally recognised qualification' for Technical Leaders
The FIFA Technical Leadership Diploma is the first qualification of its kind and aims to become the 'globally recognised qualification' for Technical Leaders working in the game.
"Currently, there is no single award or accreditation that allows an individual to become a Technical Leader in a Member Association," explains Jamie Houchen, FIFA's Head of Technical Leadership. "If a Member Association is looking to hire a Technical Leader, there is no benchmark for quality. We believe the FIFA Technical Leadership Diploma will become the globally recognised qualification for Technical Leaders and produce the very highest quality of graduates to lead football around the world."
Following the six-day workshop in Brazil, the 25 participants will begin their own personal project focused on their own unique context as well as following a programme of online learning. The cohort will meet again for six days in Japan in December, with two further face-to-face events to follow in 2024.
All 25 participants listed below received a personal invite to join the programme:
RICARDO LEAO – BRAZIL FA
AABED ALANSARI – BAHRAIN FA
ROSS AWA – GUAM FA
INDRA SJAFRI – INDONESIA FA
BASSEM MOHAMAD – LEBANESE FA
CARLES ROMAGOSA – THAILAND FA
BHEKISISA BOY MKHONTA – ESWATINI FA
BENJAMIN KUMWENDA – MALAWI FA
JAQUELINE SHIPANGA – NAMIBIA FA
WALTER STEENBOK – SOUTH AFRICAN FA
ALI MWEBE – UGANDA FA
LYSON ZULU – ZAMBIA FF
IVÁN NOVELLA – COLOMBIAN FF
ANTON CORNEAL – TRINIDAD AND TOBAGO FA
LUIS CASTRO – ARGENTINE FA
STIPE PLETIKOSA – CROATIA FF
KAY COSSINGTON – ENGLISH FA
JANNO KIVISILD – ESTONIAN FA
MARIANS PAHARS – LATVIAN FF
DIANA BULGARU – MOLDOVA FA
ANDREW GOULD – SCOTTISH FA
LILI BAI – ASIAN FOOTBALL CONFEDERATION
JAYNE LUDLOW – MANCHESTER CITY – WOMEN
PATRICIA GONZALEZ – FIFA
BUMAN-UCHRAL BOLD – MONGOLIAN FF