Kenya: The Cabinet Secretary, Ministry of Environment, Climate Change and Forestry, Soipan Tuya, today addressed the gathering of KFS Headquarters and field Managers in an ongoing two day workshop in Naivasha.
The CS implored staff to be accountable and responsible for all forestry activities in their areas of jurisdiction. She urged all staff to be completely committed to providing leadership and coordination at national and county levels towards the achievement of the National Strategy for Achievement of 30% tree cover by 2032.
Soipan noted and believes that growing 15 billion trees would positively impact water flows, food security, and employment creation, among other numerous benefits, to bolster Kenya's socio-economic development.
The Principal Secretary State Department of Forestry, Mr Mugambi Gitonga, who was also present, noted he was glad to meet field managers and confirmed his support. However, he urged the staff to uphold integrity and positively mentor new staff recruits. He noted the Green Army recruitment process would soon be undertaken, and it will boost tree growing and silvicultural activities.
The KFS Board Chairman, Job Chirchir, noted that the Board had set aside funds to develop adequate housing for newly recruited staff.
The Ag. Chief Conservator of Forests Mr Alex Lemarkoko thanked the Ministry and Board for supporting the Service and pledged to lead staff in improving service delivery. WWF Kenya was appreciated for funding the workshop.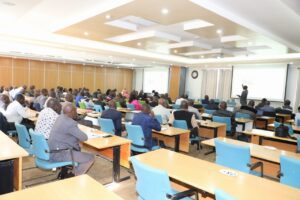 Yesterday, the KFS Board Chairman, Job Chirchir, held a consultative meeting with the Cabinet Secretary Ministry of Environment, Climate Change and Forestry, Soipan Tuya. The Chairman updated KFS's progress in implementing the Strategy on Achievement of 30% Tree Cover by 2032.
He also briefed her on the progress of recently recruited Forest Rangers who are undergoing paramilitary training and a brief on other KFS operations. The CS reiterated her support for the Service.